Starfish Reviews 3.0 is finally here, and it brings a lot of new features to help you manage your reviews more efficiently. The new version comes with a brand new dedicated Reviews page that lists all of the reviews your business has received from connected profiles, another page for the profiles you've connected to your account and a Collections screen where you can group specific reviews together.
Each new feature is designed to help you manage your online reputation and take advantage of the power of social proof.
Starfish Reviews 1.0 brought the core features currently found in the Funnels and Feedback tabs to the plugin. These features still make up the plugin's core functionality. They allow you to collect feedback from customers and guide them down different paths depending on the outcome of that feedback.
Starfish Reviews 2.0 brought reports. The Reports tab is a simple way to see how many positive vs negative reviews you've received. A second ring graph showcases the number of reviews you've received for each platform connected to the plugin.
Starfish Reviews 3.0 is designed to amplify the way you manage online reviews. It's all about online reputation management and using reviews as part of your marketing strategy.
Profiles – Add new profiles, and view stats on the ones you've already connected.
Reviews – View reviews imported from platforms you've connected in the Profiles tab.
Collections – Use this tab to group reviews together in collections, then display individual collections anywhere on your site with shortcodes.
Connect Profiles from Review Platforms
The Profiles tab is blank when you first visit it. Simply click Add New to add one to your account.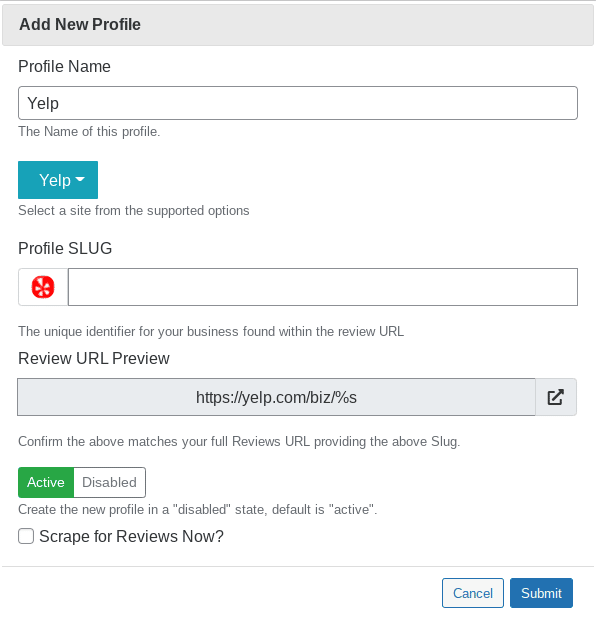 Give your profile a name, then select the platform you'd like to connect.
These are the platforms currently available in 3.0:
Agoda
Avvo
Expedia
Facebook
Google
Google Play Store
Tripadvisor
Trustpilot
Yelp
Zillow
Zomato
A new field will appear asking you to enter your slug for that profile. There's even a link preview you can use to ensure you entered the slug correctly.
Each profile has an individual Active/Disabled toggle setting allowing you to control what gets imported. This will be especially useful if you ever find yourself the victim of a "review bomb" crusade or harassment on select platforms.
Lastly, as far as adding new profiles is concerned, you can choose to scrape for reviews immediately to ensure the plugin imports reviews for you to manage right off the bat.
If you visit the Reviews tab in the plugin's settings, you can change how often (daily, weekly or monthly) the plugin imports new reviews.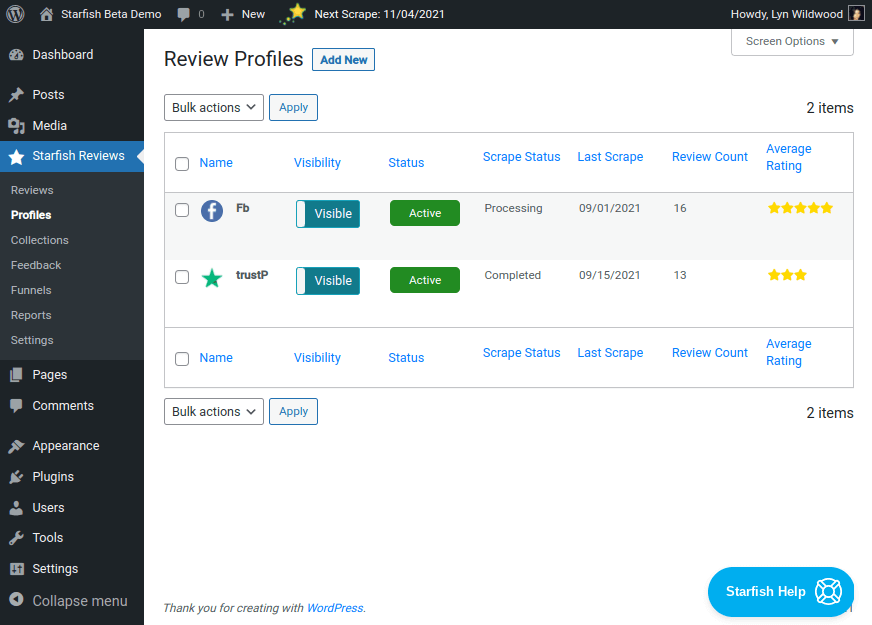 Once you've added all of the profiles you want to connect to your account, you can view snapshots showing you which ones are active and when they were last scraped.
Other stats display the number of reviews the plugin has imported and your average star-rating for each profile.
View Imported Reviews
The Reviews screen lists all of the reviews the plugin has imported for you starting with the latest reviews.
You'll be able to see each reviewer's name, which platform they left the review on, the rating they gave you and which location they're referencing, if applicable.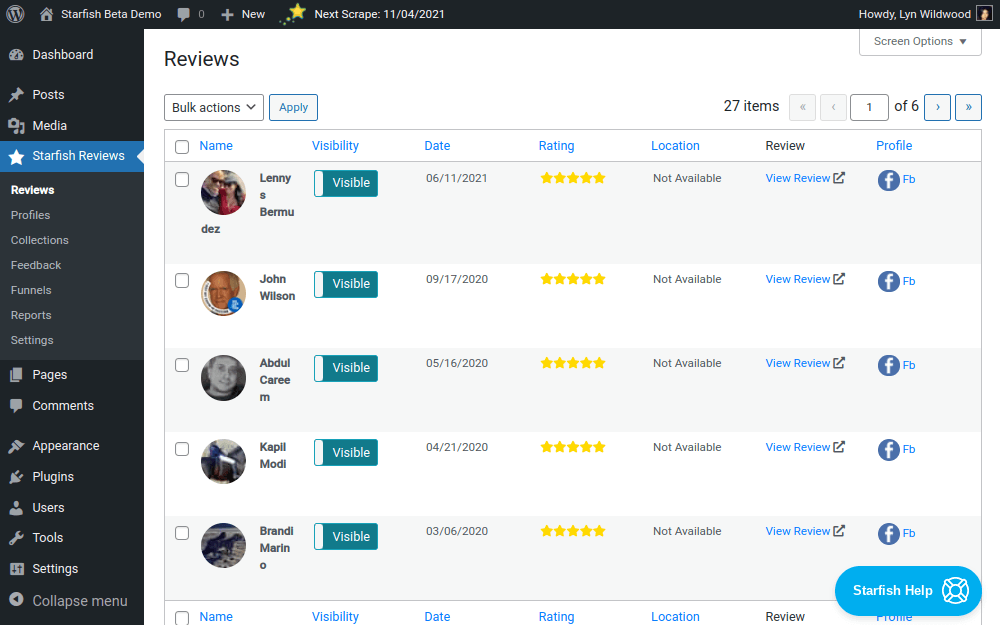 The most important feature in this tab is the "View Review" quick-action button.
This button opens each review on the website they originate from in a new tab. This addition to the Reviews tab enables you to manage reviews effectively.
It imports them on a single screen, then gives you a way to access them quickly to write responses.
This was an important feature for us to include in our plugin. Not all of your reviews are going to originate from the funnels you create in Starfish Reviews. Now, you can keep up with all of the reviews customers leave, not just the ones you ask them to provide.
Group Reviews into Collections
When you create a collection, you can select up to two profiles to showcase reviews from. Filters include minimum rating, maximum reviews to display and age of review.
"Column" is the default layout style for now with notifications coming soon. You can arrange one to four columns into one to four rows.
Slider options are available as well, including additional settings for transitions and navigation styles (arrows, dots, etc.).
The Elements section has enable/disable toggles for individual review elements, including title, avatar, platform icon (Facebook icon, Google icon, etc.), name and date.
There are also style settings for the collection's background, avatar position and avatar size.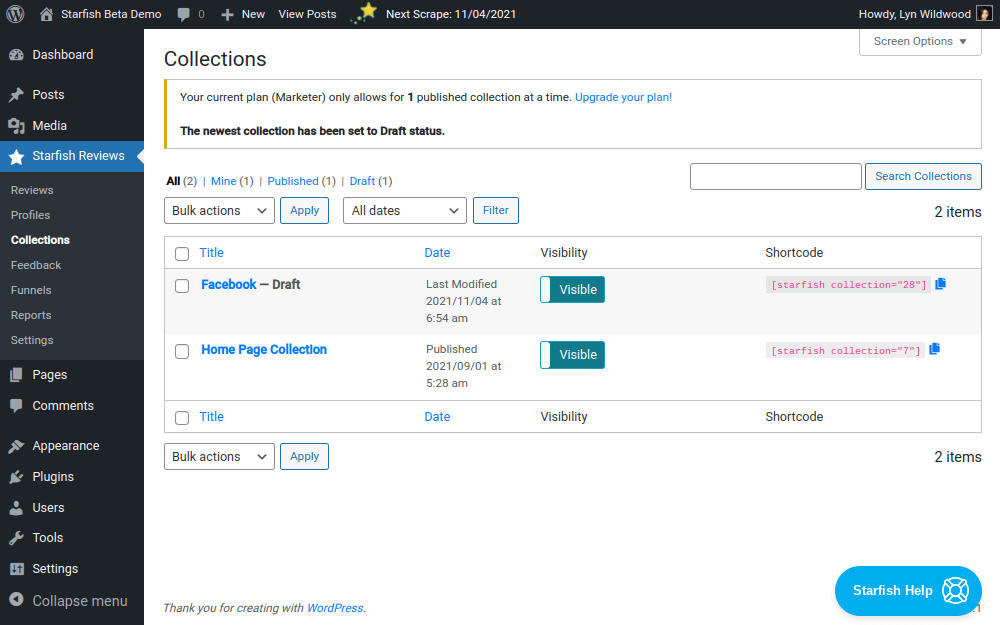 The Collections' feature home screen lists all of the collections you've created with shortcodes available for each.
Toggle Visibility On and Off
You may have noticed "Visibility" labels applied to each profile, review and collection in the screenshots above.
These are ON/OFF toggles you can use to hide individual reviews, reviews from specific profiles or reviews in specific collections.
For instance, if you start receiving too many negative reviews on Facebook but have several collections across your site that display recent reviews from this platform, open up the Profiles tab, and switch Facebook's Visibility setting status to Hidden.
This will hide all reviews from this platform sitewide.
Join the Beta Program + Upcoming Features
Starfish Reviews 3.0 will be released with the features showcased in this article, but we have plenty of additional features in the pipeline. If you want to be the first to access them, join our beta program.
Open the plugin's settings page, then go to the Account tab.
Scroll down until you see the version number you have installed. There's a setting there labelled "Join the beta program."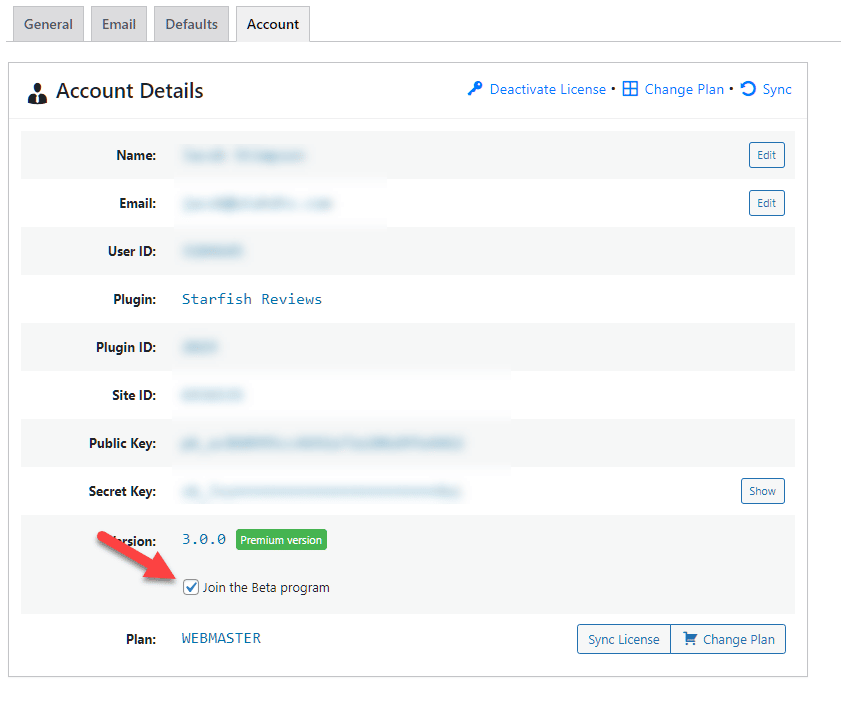 Then, look at the Version setting again to find the Install Update Now [3.0.0] button. Refresh if you need to. This is how you install all beta updates. You'll still need to update the plugin the regular way (from the Updates or Plugins screens) to install updates for the stable release.
The purpose of releasing a beta version to the public is to receive feedback our development team can use to improve the plugin's upcoming features.
With that said, we'd really appreciate it if you would send any feedback you have about the beta version to beta@starfish.reviews.
Please read our documentation on beta feedback for tips on which details would help us recreate any issues you come across and better understand how you feel about the release.
UPCOMING FEATURES
Categorized reviews
Enhanced multi-destination
Funnel management
The ability to collect testimonials
Before we send you off, we just want to give a quick thank you to our extended Starfish Reviews family for getting us to this point, and enjoy the new features!