What are local business listings?
Local business listings are pages or information cards featured on directory sites that contain key information about businesses. This includes your name, address and phone number but may also extend to images, a summary of your business, business hours, and customer reviews.
Local business listings are most commonly found online these days. As a customer, you'll find them on sites like Google, Facebook, Yelp, and TripAdvisor and will use them to research and rate businesses.
You'll approach local business listings much differently as a business. They're a crucial part of local SEO, online reputation management, and your overall review marketing strategy.
What are the Benefits of Claiming Your Local Business Listings?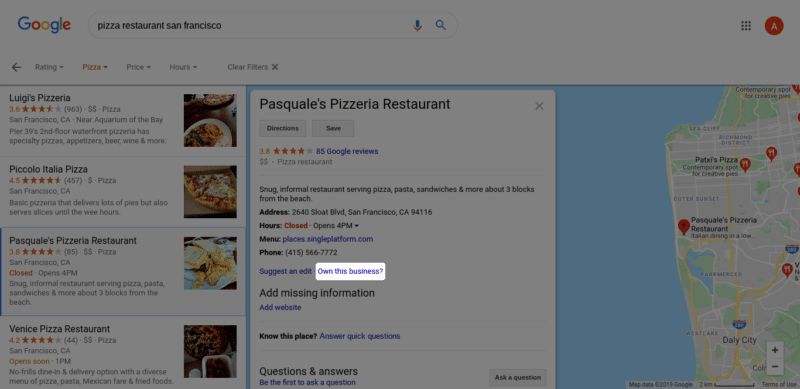 Claiming your business listings is the first step toward managing your online reputation and local SEO strategy. Local SEO is a subset of search engine optimization that incorporates local businesses and places to deliver personalized and more accurate search results to users. It's why you see a list of pizza restaurants nearest to you when you enter "pizza" in Google.
However, local SEO doesn't only apply to Google. Sites like Facebook and Yelp have aligned their algorithms with this form of SEO as well. They also deliver location-based search results to users.
This is why it's so important for you to claim your local business listings and start managing your business' reputation online. Filling your listing portfolios with rich, accurate, and relevant information can help boost your local rankings.
Claiming your business listings also gives you the opportunity to respond to reviews both positive and negative. It encourages satisfied customers to return and disgruntled customers to give your business another chance. Responding to both types of feedback also provides a wonderful way for you to round out your online review marketing strategy.
Finally, claiming your local business listings allows you to build complete portfolios on sites that have highly competitive domain authorities. Plus, if you claim a listing before a spammer has the chance to, you'll avoid having fake or inaccurate information representing your business.
Which Business Listing Sites Should You Use?
There are a number of different sites you can use to showcase business listings. You likely already use them for your business and as a consumer. They include names like Google, Facebook, Yelp, TripAdvisor, Yellow Pages, and the Better Business Bureau. The ones you ultimately decide to use will depend on a number of different factors.
Start by using a listing lookup tool to find listings for your brand across the web. These tools include Moz's online presence tool, Hibu's business listing scan, Yext's business scan, and The HOTH's local SEO tool. They'll help you find listings that already exist for your brand. Prioritize ones that have inaccurate information first, though you should take the time to claim every existing listing before a scammer has the chance to.
If you don't have listings on major platforms, focus on listing sites your target customers use the most. You should most definitely claim or create listings for Google and Facebook since they have the largest user bases.
To discover additional listing sites your customers use, look up reviews for products related to yours to see where customers are leaving them. You can also run your competitors through the tools mentioned above.
Consider creating or claiming listings for all listing sites at some point down the line but only if you have the time to manage them. Scammers or competitors may try to claim your business listings before you have a chance to, and they may use them to misrepresent your brand or business information and even scam your customers.
How to Claim Your Local Business Listings Online
Every business listing site works differently. Some require you, the business owner, to create listings manually while others are created in different ways. Google's algorithm has become sophisticated enough to discover local businesses and preemptively add listings for them to the database. Others are added when customers review or "check in" at businesses.
Nonetheless, you now have listings created by customers and algorithms, which means mistakes and the likelihood of scammers claiming them first are high. Fortunately, major platforms are getting better at verification, so it's becoming less common for someone who is not working for your business to make claims.
Here's how to claim your local business listings on the following platforms:
Keep in mind these instructions are for business owners interested in claiming unmanaged pages or pages managed by unknown third parties. Be sure to ask around your workplace or organization to see if anyone has claimed your pages. If so, they'll be able to add you as an admin.
Claiming Business Listings On Google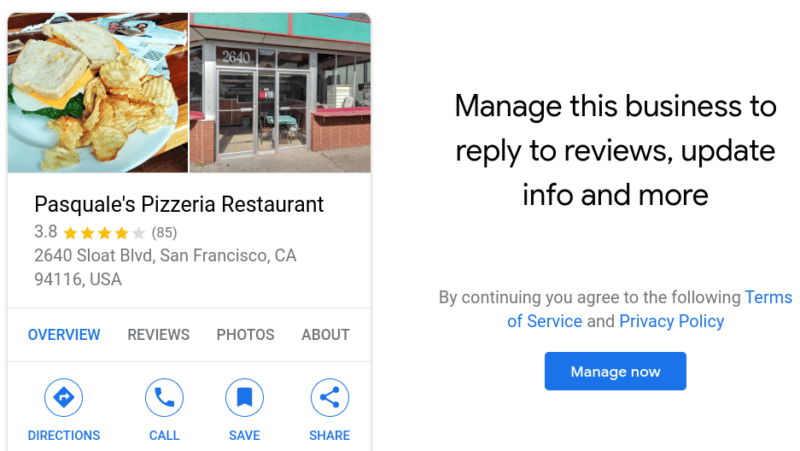 If your business is already on Google, view the listing on Google Maps, and search for a link that says "Claim This Business" or "Own This Business?" You'll be redirected to a screen that asks if you'd like to manage the business. Click "Manage Now."
Follow the on-screen steps to claim the listing. This will likely require you to enter a unique temporary code sent via automated text or call to the number associated with the listing.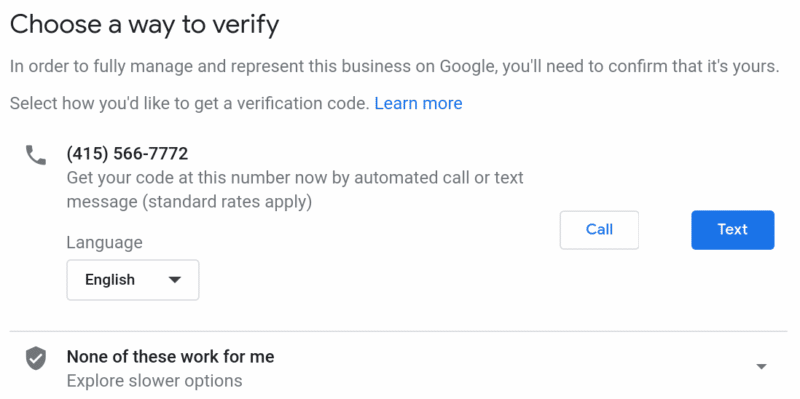 If another party has already claimed ownership over the listing, they'll need to pass over ownership to you. You can initiate this process by requesting ownership from them.
Start by navigating to Google My Business' Find and Manage Your Business page, and search for your business. When you find the section that states someone has already verified the page, click Request Access, and fill out the subsequent form.

You'll need to get in touch with Google's support team if the current owner rejects your requests, which is the start of a long and arduous process, unfortunately. It seems the best way to do this is to reach out through the support portals on Google My Business and Google Ads. You can also try reaching out to the @GoogleMyBiz Twitter account Google created for the Google My Business support team.
If you can't find your business on Google, you can create a listing using the same Find and Manage Your Business page mentioned above. Once you have your page claimed or created, create a shortlink and review request link for it.
Claiming Facebook Business Listings
Facebook creates unmanaged Facebook pages for businesses when customers "check in" at places that don't match an existing page. Pages may also be generated from Wikipedia articles, but keep in mind these types of pages cannot be claimed. You'll know a page has been generated from Wikipedia if the "W" from the brand's logo appears at the bottom.
If you know you're working with an unmanaged page that was not generated by Wikipedia, you can claim it in a few different ways. Start by logging into your account at Facebook Business Manager or creating one if you haven't used Facebook, yet.
Once you're logged into Facebook Business Manager, click the blue "Business Settings" button located at the top right, then open the Pages section. You'll see the pages you currently manage here, but what you're really looking for is the blue Add button with a plus "+" symbol on it.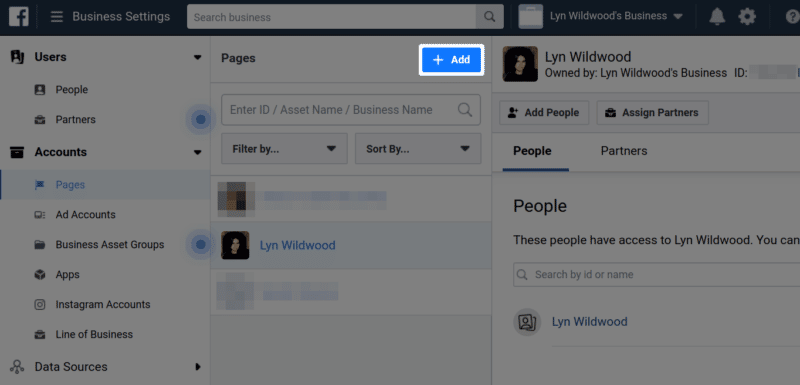 Click "Request Access to a Page," then enter the page's name or URL, and click "Request Access." You'll likely be asked to verify your request with information about your business, including the address and phone number. You can also merge the page with one you already own if you find duplicates.
Alternatively, you can view the page while logged into your personal Facebook account, and click the "Is this your business?" link located underneath the page's cover photo.
If you're having trouble claiming a page managed by a third party unassociated with your business, create an official page for it, then use Facebook's report feature to report it as "pretending to be another business."
Create a page if one doesn't already exist. You can do this with your personal account. Once you've created or claimed your business' Facebook page, create the perfect link to ask for reviews so you can send your customers to the right place.
Claiming Yelp Business Listings
When customers review businesses that aren't yet on Yelp, they inadvertently create unclaimed pages for them. You can claim these pages in a few different ways if you find one for your business.
Start by logging into your account or creating a new one. Then, use Yelp's search bar to find your business or visit the Business Claim page. When you view a page on Yelp, you'll see a Claimed or Unclaimed badge. Click the Unclaimed badge to find the "Claim This Button" link. The Business Claim page allows you to select a business to claim from a list.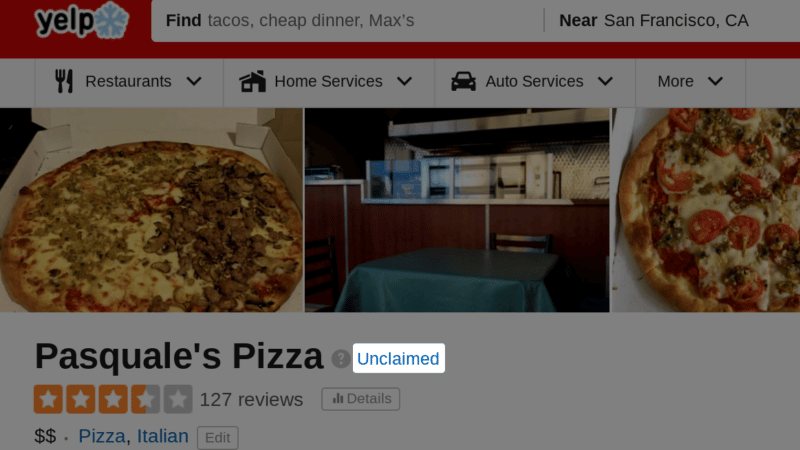 Either way, you'll be asked to enter information about your business for verification. This may include entering a verification code sent to your business' phone number. If your business is already claimed by a third party who will not pass over ownership to you, get in touch with Yelp's support team.
Create a new page if your business is not on Yelp, yet.
Business Listings Management
The work doesn't end with claiming and filling out your local business listings, not if you want to improve your local search rankings and stay ahead of your competitors. Keep your listings up to date, and be sure to build your portfolios with online reviews and images. You can use listing management software from some of the companies we mentioned above, including Yext and Hibu.
The most effective thing you can do with your listings is collect online reviews and respond to them. Be sure to read our guide on how to create an online review marketing strategy for more information.
Have you had trouble claiming business listings in the past? Let us know in the comments below.