I'm excited to announce the new version of Starfish Reviews. Version 2.0 is here to set the foundation for the future of the plugin. It doesn't have a lot of shiny new features, but we (mostly Matt… more on him below) did a lot of work to speed up and automate the development process for future versions.
Merging the Codebases
I know this feature is not sexy, but we were spending a lot of time managing a separate codebase for the "Lite" version (now we just call it "Free") of Starfish Reviews. So merging the codebases was a big step toward more and better features in the future.
We've even allowed a few previously premium in the free version, such as setting a funnel logo. So we're giving more value to our free users. Plus showing them other premium features, that they could be using if they upgrade: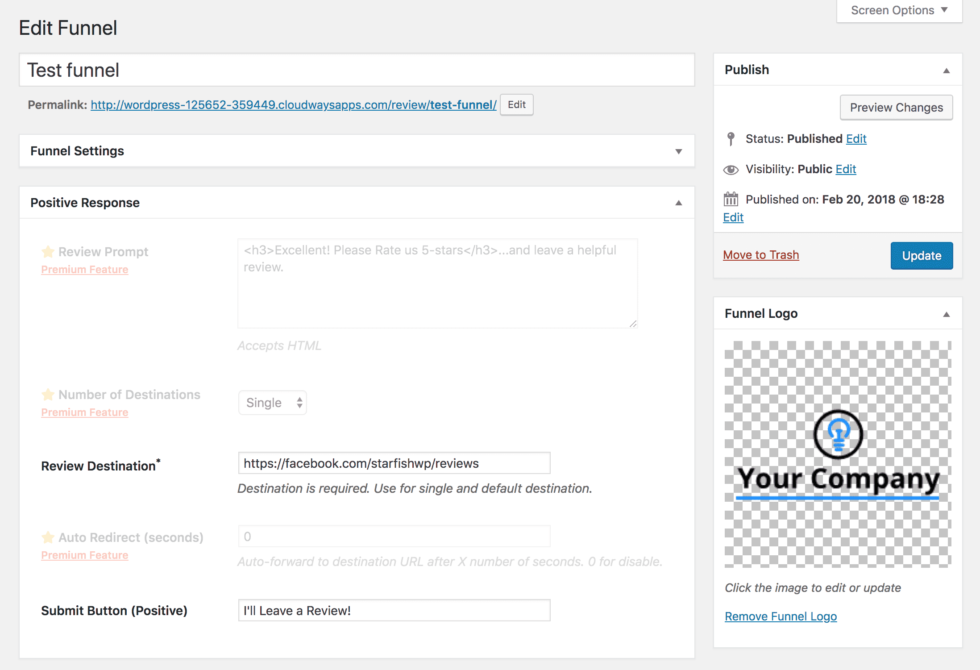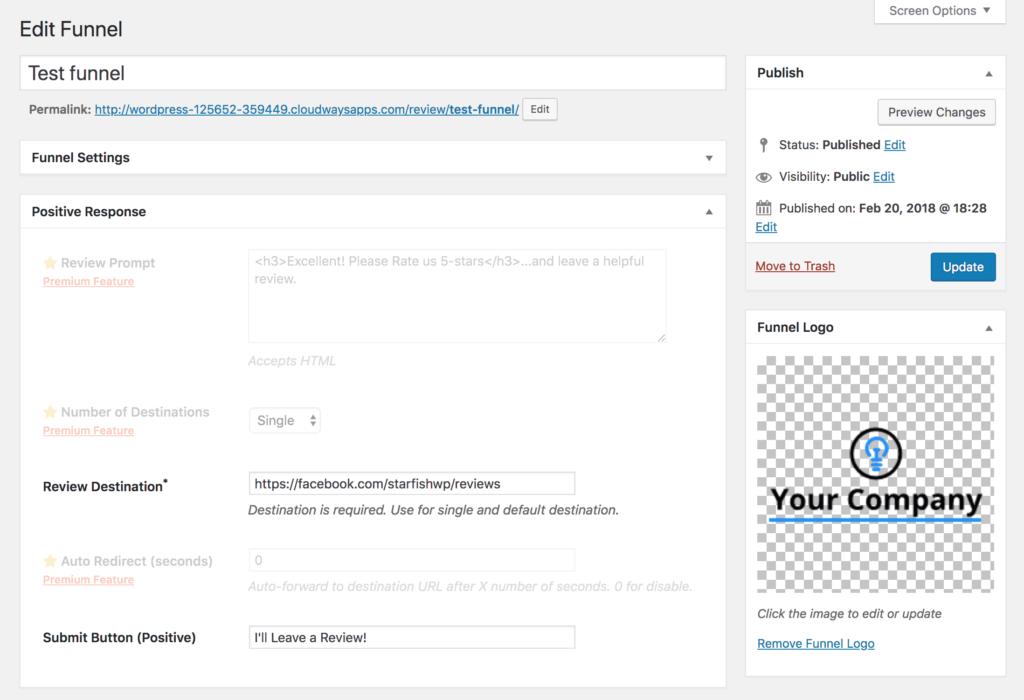 Along with the merging, Matt also setup various automation for testing and deploying new versions of Starfish Reviews. So it's much easier for us to work together to improve, test, and deploy a release. This means shorter release cycles and you get new awesome features more quickly
New Reporting Section
This is a feature that we're really excited about. The reports now appear in their own section of the plugin. Matt, our new developer, has built these using Angular. It's a powerful platform that will allow us to do a lot more complex and beautiful reports and functionality in the future. You can already see how much nicer the charts look now: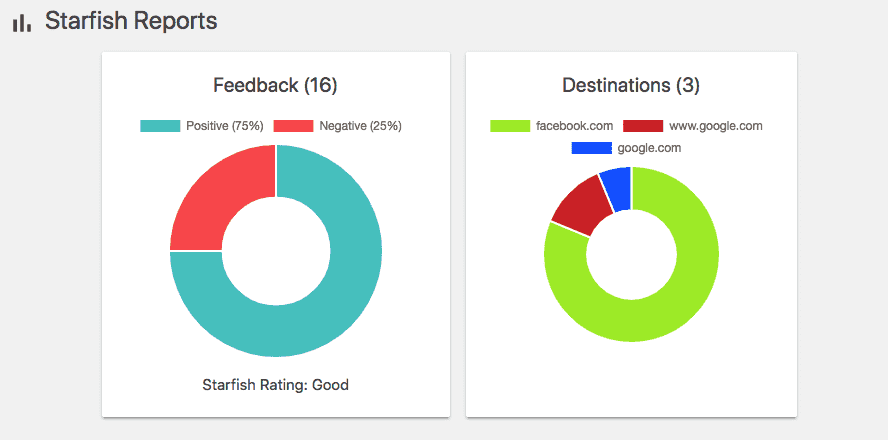 New Default Settings for Funnels
Do you create a lot of funnels? If so, you'll love this feature: there's now a defaults tab under Settings, so you can set the default copy that each new Funnel will be created with (there's more than in the screenshot):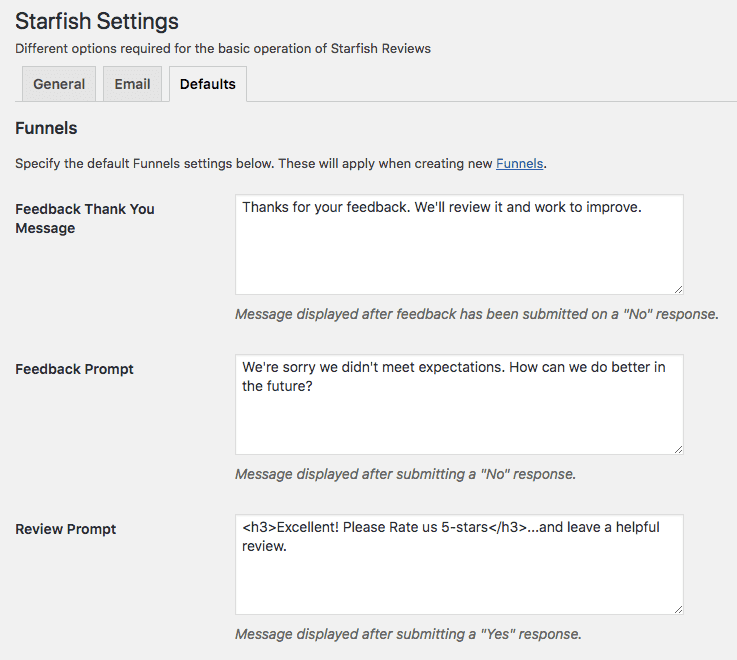 Introducing New Developer Matt Galloway
I'm excited to introduce you all to Matt Galloway, our the new lead developer of Starfish Reviews. He's got many years of amazing WordPress and Angular development experience, and leads a whole team of developers in his day job.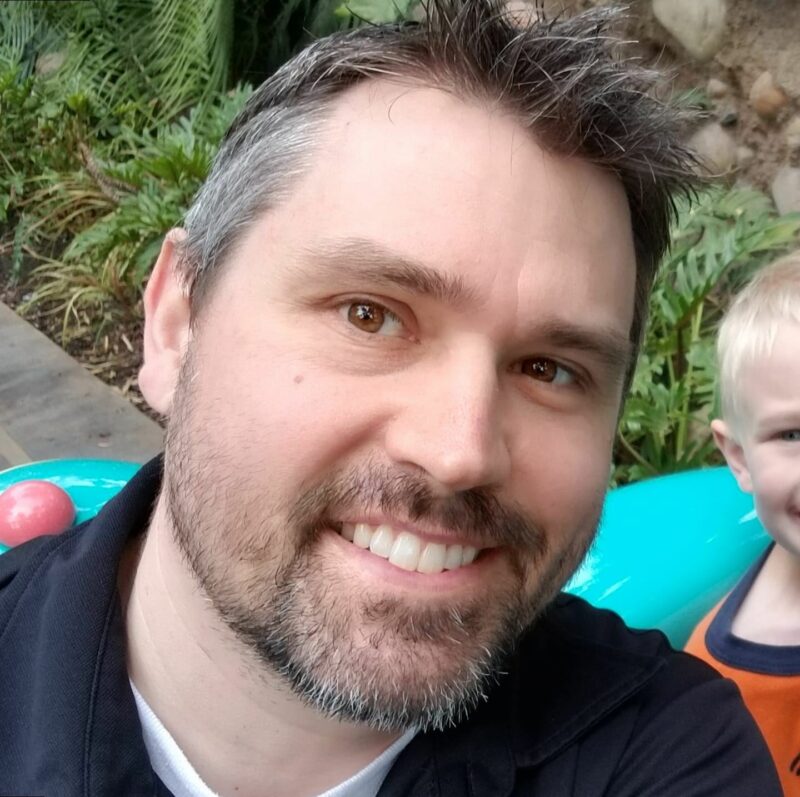 He's just as excited about the future and potential of Starfish Reviews as I am. We've worked together on previous projects, and have had a great time producing Starfish Reviews 2.0. We're looking forward to many more releases.
What About ____ Feature, I've Been Waiting For?
If you want more features, tell people about Starfish! We need more people using Starfish Reviews, both free and premium. So start telling people about it! On social media, in-person, via email, etc. You can even get paid for it, by joining our Affiliate Program!
As I said, this version lays the groundwork for future versions. So it took many months and didn't provide much for you, our end users. But we're now much better setup to create and add amazing new features going forward. Though we need more users giving us feedback, and more revenue if we're going to continue to produce awesome new features. So tell people about it!