Running a business is one of the most tedious feats you can attempt to accomplish in life. First, you need a product or service to sell and someone to sell it to, which can mean countless hours of building, product testing, and getting a website or brick-and-mortar store set up. Then, after all that, you need to worry about marketing your business so you can actually attract customers and start earning revenue. Unfortunately, marketing is a multi-step process that can be expensive and cumbersome to set up.
It's easy to overlook, but reviews actually play an important role in a business' marketing strategy. In this post, we're going to take a look at two WordPress review plugins that allow you to import reviews you've received from various platforms and showcase them on your WordPress site. We'll be taking a look at the features they offer, how easy they are to use, their pricing structures and more.
EDITOR'S NOTE: we were originally going to include a set of three premium plugins from Rich Plugins (that combined provide similar functionality to the ones below) in this review. However, after initially saying they'd provide us with their plugins for review, they stopped responding to our emails. Because of this, we can't provide a fair review of the premium version of their plugins. We hope our experience is not indicative of their support, but have nothing else to go on. So we're hesitant to recommend them in any form. We will happily add their plugins to this review, if they re-open communication and provide us access to their premium plugins.
What are WordPress Review Plugins?
Reviews are an integral part of every marketing strategy, as stated before. They're part of a micro strategy known as "social proof," a psychological phenomenon that occurs when an individual makes an assumption about a person, place or thing based on the actions of others. As consumers, we use reviews as social proof to gauge the quality of a product or business. If reviews are too poor, we won't bother. If reviews are glowing, we won't waste time in clicking "Purchase. "
You can use this to your advantage as you promote your product on your website as well as across the net. By offering a well-made product and/or quality service, you can earn a healthy collection of reviews across multiple platforms, including Google, Facebook and Yelp. WordPress review plugins allow you to showcase these reviews on your site, giving you the perfect opportunity to provide social proof on your landing pages.
WordPress Review Plugins Featured in This Post
We're going to go over two WordPress review plugins in this post. They are, in no particular order:
WP Business Reviews
WP Review Slider Pro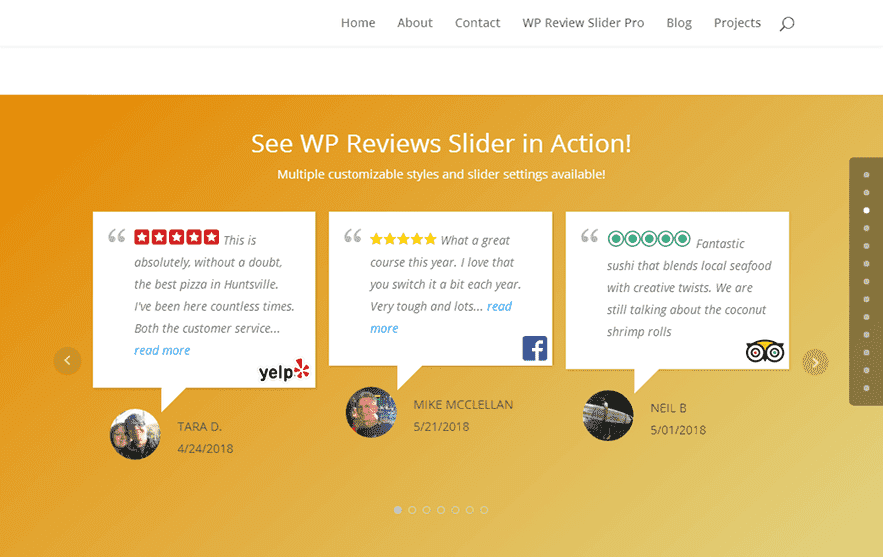 These plugins allow you to showcase reviews from such platforms as Google, Facebook, Yelp, and TripAdvisor in different ways. We'll be discussing the individual features each plugin offers as well as the settings and styles they use to showcase your reviews. We'll also be covering their setup processes, how they handle support, and the prices and pricing structures they use.
We've arranged these topics into the following sections:
Installation & Setup
Ease of Use
Support
Pricing
Let's start at the top.
01. Installation & Setup
This may not be something you consider, but if you're busy running and marketing your business, you probably don't have time to figure out how to set up every feature and plugin your site needs. That's why it's crucial for every plugin you use to have a simple installation and setup process. Let's see how each plugin performs in this department.
WP Business Reviews
Installing and activating this plugin is simple. All you need to do is upload the ZIP folder or upload the unzipped folder to your Plugins folder. You'll only need to input your license key after that.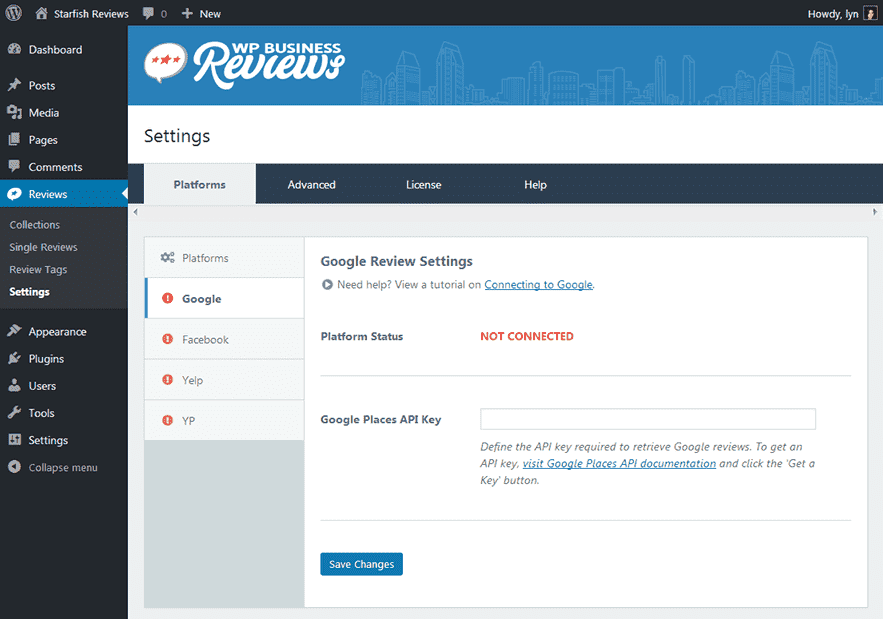 Setting up Google is easy. All you need to do is create a new Places project in Google Cloud Platform and paste your API key in WP Business Reviews. To connect Facebook, all you need to do is log into your account and give the plugin access to your Facebook page(s). For Yelp, you'll need to create an app and paste in your API key. The same goes for Yellow Pages.
WP Review Slider Pro
Setting up WP Review Slider Pro is identical to the way you set up WP Business Reviews—upload the ZIP folder or upload the unzipped folder, activate, and enter your API key. However, the similarities in their setup processes end there, specifically in the way Google and Facebook reviews are set up. When it comes to these two platforms, the setup process is definitely a bit smoother with WP Review Slider Pro.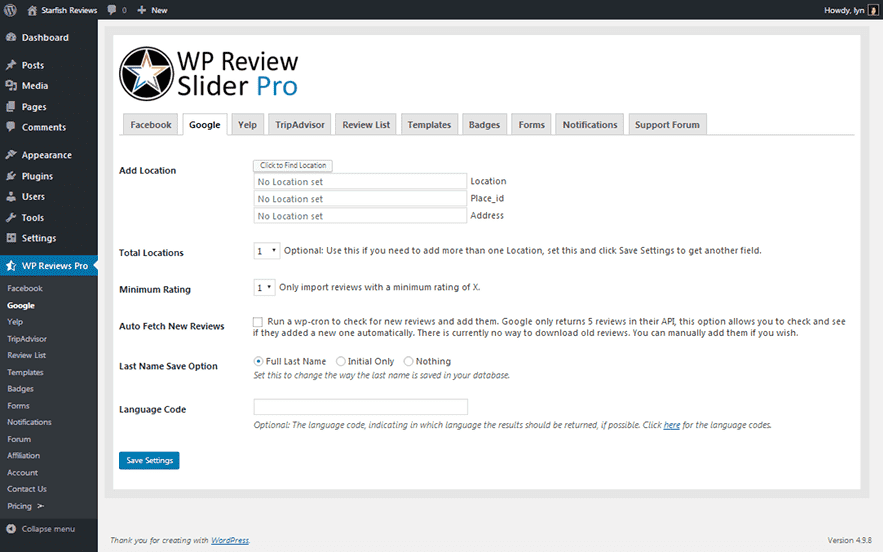 To connect Google, you'll need to input your PlaceID, which the plugin helps you find. For Facebook, you'll need to enter your Secret Access Code, which you can do by giving the plugin access to your pages. You can then import Facebook reviews with a few simple clicks. All you need to do is enter your business URLs and import your reviews to connect Yelp and TripAdvisor.
02. Ease of Use
In this section, we're going to examine what it's like to use each of these plugins as well as which features they include. This should help you decide which plugin would suit your needs best.
WP Business Reviews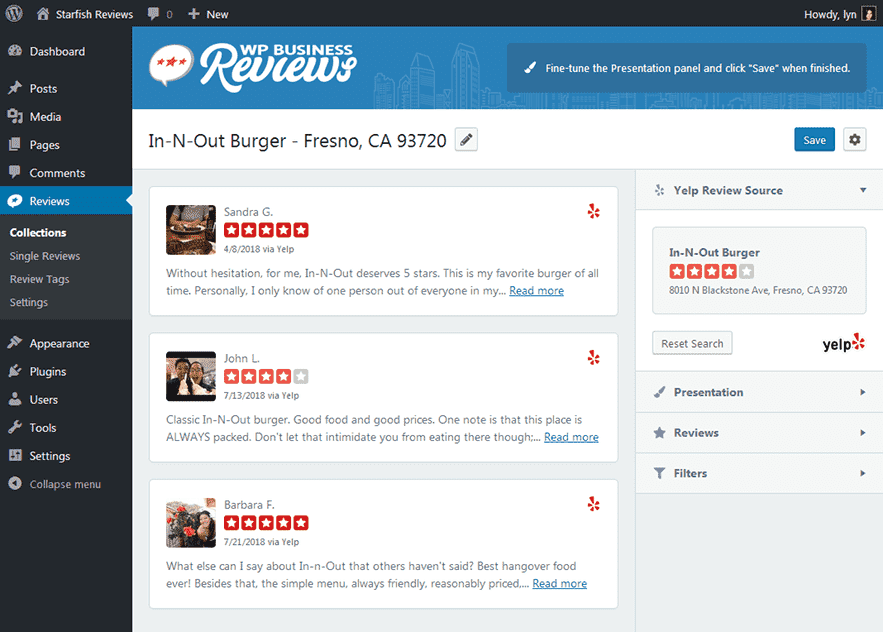 Using WP Business Reviews is relatively straightforward once you have everything set up. You can add reviews manually for some platforms or import them when you create collections. You'll use collections to group individual reviews together so you can display them on your website.
You can configure style settings for collections, control which parts of a review get displayed and even filter out certain reviews, such as low-star reviews. You'll use a shortcode or the included widget to display collections. You can also create Review Tags to apply to single reviews you add manually and use them to create custom collections not linked to any particular platform.
Before we talk about the features WP Review Slider Pro offers, I wanted to point out that WP Business Reviews only recently launched at the time this review was written. The developers will likely add more features as the product grows.
WP Review Slider Pro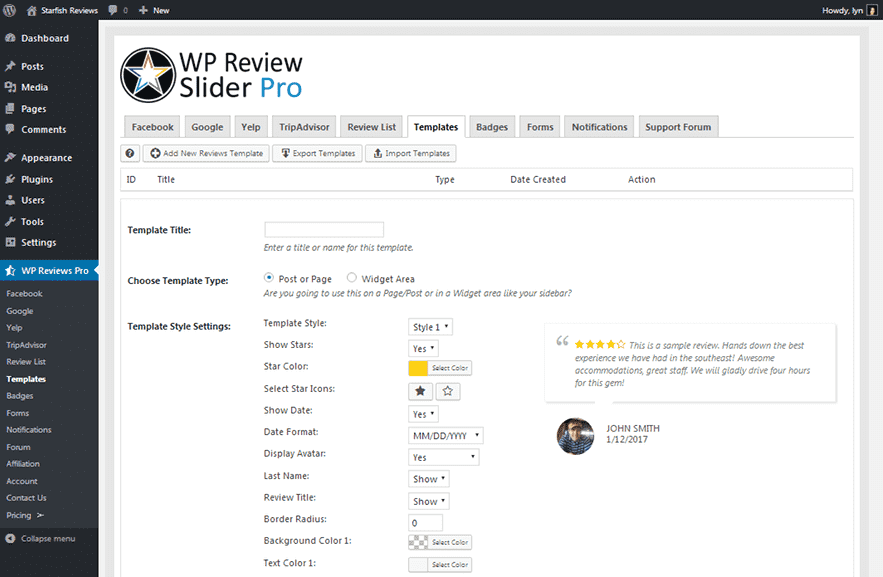 WP Review Slider Pro is just as easy to use, but it comes with a lot more features when it comes to displaying reviews. In fact, the screenshot displayed above only shows a third of the settings for creating templates. You'll use templates to create collections of reviews to display, and unlike WP Business Reviews, you can add reviews from multiple platforms without needing to create them manually. Also, despite this plugin having the word "slider" in its name, you don't need to create a slider.
There are multiple styles to choose from, and you can customize the colors you use, what gets displayed, whether or not you use a slider, how slides behave, what gets filtered, and more. You can also create a badge, a summary of the number of reviews your business has received and the average star rating it has. There's also a form template you can use to have visitors leave reviews on your site. Templates, badges and forms can all be exported and imported from site to site.
03. Support
Support is a major deciding factor for many users, especially busy business owners who don't have the time or knowledge to fix bugs on their own. Let's take a look at the various levels of support these plugins offer.
WP Business Reviews
WP Business Reviews takes the cake when it comes to support. The developer offers standard ticket support to every customer, but higher-tiered customers receive access to priority support. You can expect to receive a response within two to four business hours Monday through Friday, and technical issues are typically resolved within one to three business days.
WP Business Reviews also has an extensive documentation that'll help guide you through the process of using this plugin. You'll find video and text-based guides detailing individual features, information on the platforms integrated with the plugin, and more. These articles can help cut back on the number of requests you need to send to the support staff.
WP Review Slider Pro
WP Review Slider Pro falls a bit flat in this department. They do offer support, but there's no difference in the level of support offered to non-customers and customers. You'll use the same contact form, and there's no priority support given to higher-tiered customers.
There's also no documentation you can reference, though there are a few helpful articles in the company's blog, including an article on creating an API key for Google.
04. Pricing
Disclaimer: This article was written in August 2018 and may not reflect current pricing for these products.
There are subtle differences between the prices and pricing structures these plugins offer, though WP Slider Review Pro is definitely more lenient on pricing. We'll be taking a look at cost, the types of plans each plugin offers as well as the features available in each of those plans.
WP Business Reviews
WP Business Reviews has three premium plans, two of which have fixed prices. The first plan gives you access to a single site license in addition to the following:
One year of updates.
All review platforms.
All styles.
Custom reviews.
Filters for negative reviews.
Email support.
This plan is available at a rate of $99/year. The second plan offers much of the same features, except it gives you access to five site licenses and includes priority support. This plan is available at a rate of $149/year.
There's also a third plan for agencies and developers that gives you access to six or more site licenses. These are custom plans, however, so you'll need to contact the developer directly to receive a quote on pricing.
WP Review Slider Pro
WP Review Slider is a freemium plugin. The free version is broken down into four parts (one plugin for each review platform), and they're all available in the WordPress plugin repository, so you can install them directly from the WordPress admin area.
The premium version comes with everything the free version comes with, except it combines all four free plugins into one. You can even add custom reviews, grab reviews from 15 different sources and display the logo of the platform it was submitted on. This in addition to the following features:
Front-end user submissions.
Email notifications based on review levels.
Multiple template styles.
Ease of customization for things like speed, duration, transition style and more.
Filter options for more control over the reviews that display.
Email support.
All plans come with the same set of features. You simply pay for the number of site licenses you need with the following price structures:
1 Site – $29/Year or $99/Lifetime
3 Sites – $39/Year or $149/Lifetime
5 Sites – $59/Year or $199/Lifetime
Unlimited Sites – $99/Year
There's also a 7-day, free trial you can take advantage of.
Final Thoughts
WP Business Reviews and WP Review Slider Pro are two plugins that display reviews from similar platforms in different ways. They both have their strengths and weaknesses. Whichever one you decide to go with is entirely up to you and the needs or your business. Think of the points we brought up in each section in this article, and consider how they relate to you and your business' needs.
Both plugins are easy to install and set up, so it's best to consider their features, ease of use, support options and prices. Consider how you want your reviews to be displayed, how much time you and your team are willing to sacrifice to fix any technical hurdles that may occur as well as your budget. Factor in all of this as you make your decision.
Of course, having reviews on Google, Facebook, Yelp, etc is the first step. If you don't have any reviews on those platforms, or would like to get more, check out our plugin: Starfish Reviews. It helps you get more 5-star reviews for your business.
We hope you found this article helpful, and if you have any experience with either of these plugins or know of a few similar ones, be sure to chime off in the comments below.
Get 5-Star Reviews!
On Facebook, Google, Yelp, Amazon, TripAdvisor, & many more, using our WordPress plugin.