A lot has happened since our last plugin update. You should know that Anas has made amazing progress on the multiple-destinations feature, but it's not in this version (sorry to tease). We'll also be including an option to be more compliant with Google's updated guidelines (more on that soon). We bumped both those features to version 1.5 in order to get Freemius integrated and launched as quickly as possible.
Why Freemius, Why Now?
If you've read some of my posts, you'll know that I like to take a step back and ask "why?" I also like to explain the "why" behind our decisions. So here's why we're doing this: Freemius is going to save us a lot of time and hassle going forward so we can invest more in improving Starfish Reviews, marketing it, and possibly launching some of the other plugins we have waiting in the wings. For example, a number of our members are already in the European Union, and we expect many more will be in the future. Freemius handles all the VAT taxes for EU citizens. They also will soon handle GDPR compliance for those same EU citizens, as well. This was a major factor as GDPR goes into effect next week and a lot of our members are already in the EU. So that's reason #1: we can focus on making Starfish Reviews even more awesome since Freemius will be handling that legal garbage for us. Don't get me wrong: we believe strongly in privacy, but so far GDPR seems to have a lot that's unclear or undefined.
Reason #2 is that they have a great platform with great features that allows us to do everything we were doing, and a lot more. That includes analytics and control we didn't have before. We were using WooCommerce API Manager and were frustrated and disappointed with the level of features, service, and documentation that was provided. So I started looking at options again and realized Freemius had everything we wanted and was more reasonably priced than I initially thought. I initially assumed that Freemius' tiered pricing restarted monthly, making it way too expensive for my tastes! In researching options a 2nd time, I realized my mistake and how much more reasonable Freemius' pricing model really is, especially for all they provide. So we probably would have started out on Freemius, had I understood their pricing the first time around.
What Is Freemius?
Freemius is a platform for WordPress plugin and theme developers that handles sales and licenses of their plugins. So we implemented their SDK into Starfish Reviews 1.4 and their purchase buttons into our home page, and now all licensing and plugin purchases is handled by their platform.
What Happens to Our Old Licenses?
Vova at Freemius has provided awesome support in helping us migrate everything to the Freemius platform. We've already migrated all our existing user's accounts, license keys, and renewal data to Freemius. So your license keys will continue to work on Starfish Reviews version 1.4 and all future versions. After some time, we'll delete all that data from our site. If you need to retrieve your license key or download the latest version of Starfish Reviews, you can do that here.
Do I Have To Do Anything Special?
There are two things you have to do:
Re-license the plugin after the 1.4 update is applied on any sites you've installed it on. Sorry about the extra work here. After the 1.4.x update has been applied, click on "Settings" and you'll be prompted to put in your license key again. Your same old license key still works! The plugin will actually strip off the first portion, so it's the same length as the Freemius license keys. But don't worry about that, you can just paste in the whole original key. After that the plugin will begin working again normally.
Setup your yearly subscription again (unless you have a lifetime license). Don't do anything about this until your year has expired. At that time, Freemius will send you an email with all the details to setup your yearly subscription once again. So wait for the email, which wont arrive until Feb '19 for our earliest members. NOTE: you may receive an email about your subscription on Stripe or PayPal being canceled. That's because we're deleting those subscriptions so that Freemius can handle them. We're not firing you as a client! We love you and want you to renew when the time comes.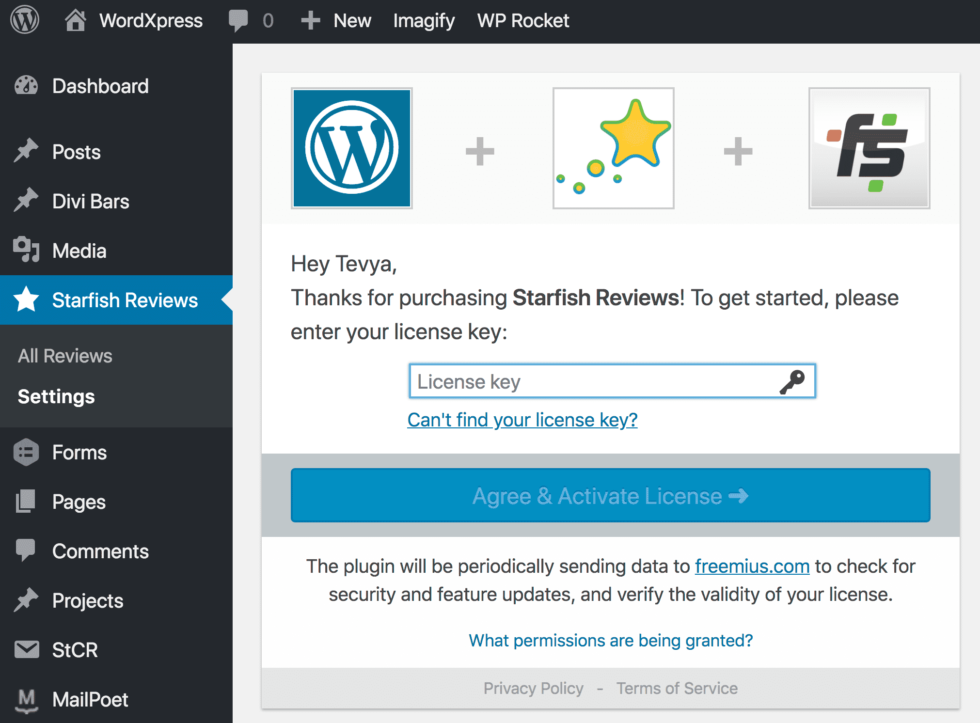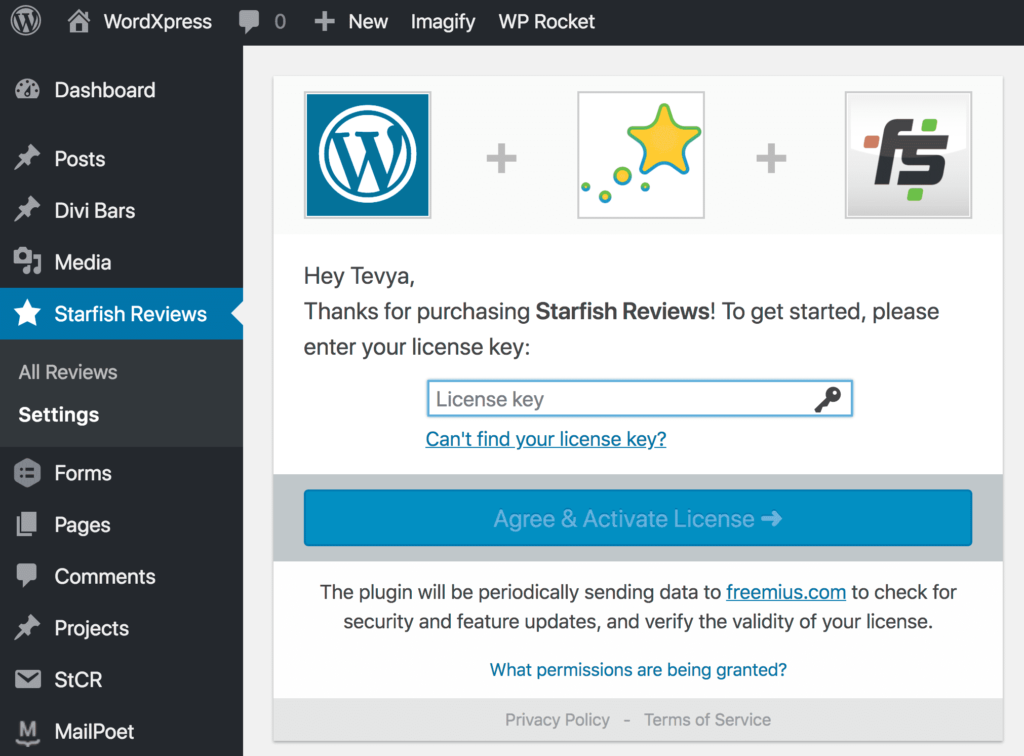 What Else Will Change?
One thing that will change right away is the ability to deactivate licenses remotely. You used to be able to do that from your WooCommerce My Account dashboard right here on StarfishWP.com. Freemius currently does not have a way to do this on your own. However, you can open a ticket with us at any time (there's now a form right in the plugin) and ask us to deactivate a specific site that your license key is used on. The ability to do this on your own, is coming to the Freemius platform in the future.
One of the changes in version 1.4 is that deactivating a license now entirely disables the functionality of the plugin. In the past, if you went to your My Account and disabled a site's license, Starfish Reviews would continue to work, it just wouldn't receive automatic updates. In version 1.4 and going forward, it's useless without an activated license. So even though you have to ask us to do the remote deactivation for you, now your former clients won't be able to continue to use Starfish Reviews, after we've deactivated it on their site for you!
What Else is New?
We also added WordPress' default body classes and ID's into the Funnel pages. This means you can target all Funnels, or a specific Funnel, in your custom CSS. So if you need to do something special on a particular funnel, or want to make a change to all funnels, you can target those CSS classes to accomplish that. See the full changelog for details.
How Do I Get Version 1.4?
Just like you have in the past: it'll come via auto update. We're pushing it out via our old system. So you'll receive it via auto-update like past versions. You can also retrieve your license and download the latest version here.