We're really excited to announce that Starfish Reviews 1.5 is here! It includes the #1 most requested feature: multiple destinations for each category!
Multiple Review Destinations Per Funnel
You can now choose if you want a funnel to have a single destination (like they've had in the past), or multiple destinations. If you select multiple, you'll be able to select an icon, colors, a name, and the destination for each destination. These will be displayed as tiled buttons or icons so your users, clients, or followers can select where they'd prefer to leave their public review.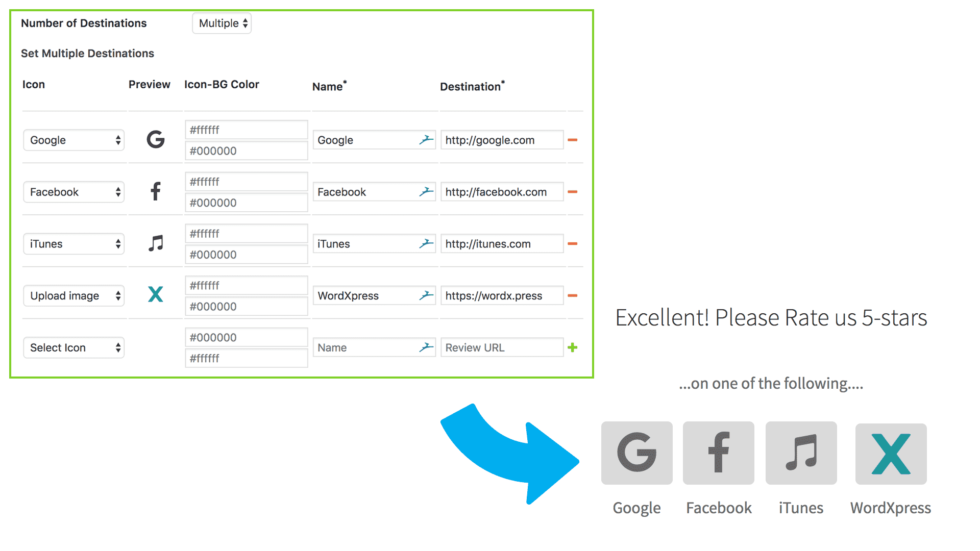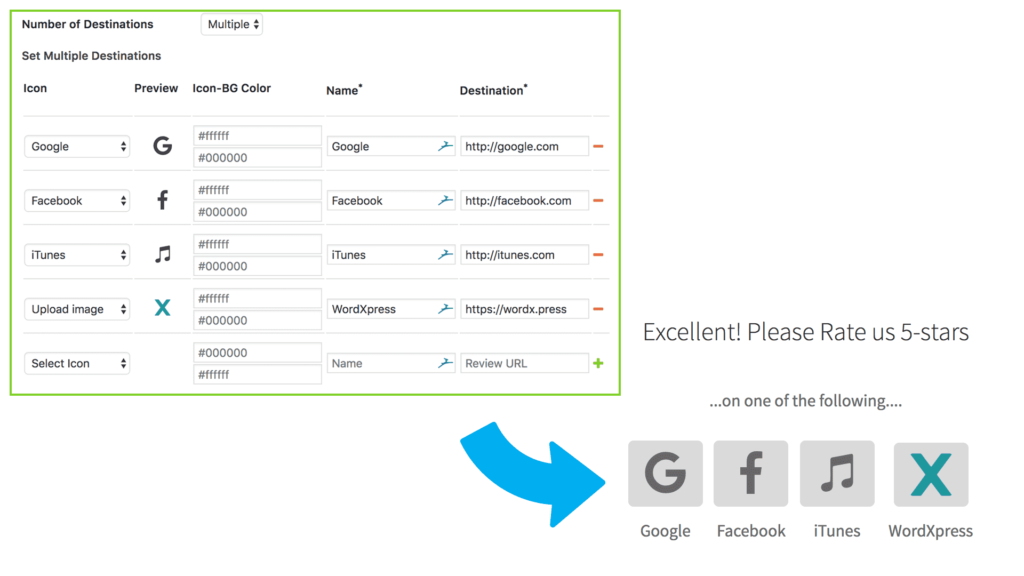 For example, lets say you want to bolster your public reviews on both Google and Facebook. All you have to do is select the "Multiple" destinations option, then setup two destinations: one for Google and one for Facebook. Your users will be able to click or tap where they'd prefer to leave their review. This is great if you want to encourage reviews on multiple platforms, and also to ensure that your users have a destination where they can leave a review, since not everyone has a Google account (for example).
Disable "Review Gating"
At it's core, Starfish Reviews was built to be a "review gating" plugin. At least thats the name some people use. Basically it opens the gate for positive reviews and closes the gate for negative ones. However, Google recently updated their policy (see the "Text reviews" section) on reviews. It now states:
Don't discourage or prohibit negative reviews or selectively solicit positive reviews from customers.
Starfish Reviews was designed to do exactly what Google's policy now says you should not do. So we've adapted (like many review management SaaS products) to comply with this new requirement by adding the option to "Disable Review Gating". If you check the box to turn on this new setting in the "Negative Response" section of a Funnel's settings, people who give negative feedback will be presented with the option to proceed to the review destination and leave a public review. They will still need to provide the negative feedback for your internal review, but will then be given a button (single destination funnel) or their choice of destination options (multiple destination funnel) the same as if they'd given a positive answer on the initial question. You can see how this works here: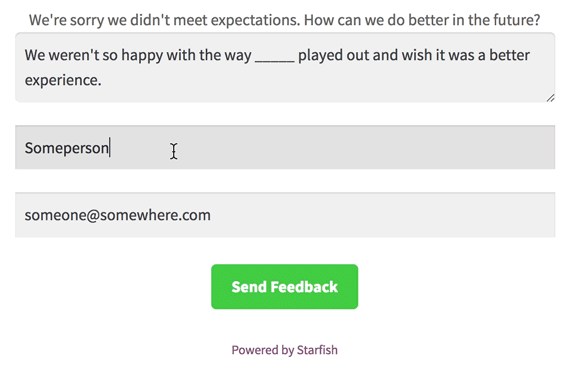 Turning this option on, means that by using Starfish Reviews, you'll be in compliance with Google's new policy, since both negative and positive reviews are given the option to proceed to the destination(s) and leave a review. NOTE: you only need to use this if Google is the review destination on a single destination funnel or one of the destinations offered in a multiple destination funnel; or if you're using another review platform that has a requirement in their policy similar to Google's.
New Language Translations
Starfish Reviews now has a few translations included: French, Tagalog, and Finnish (though Finnish isn't 100% updated for version 1.5). Huge thanks to Eric Gracieta for the French Translation, Charry Mae Yanez or the Tagalog, and Hannu Jaatinen for the Finnish! We're excited to allow more and more people to be able to use Starfish Reviews with translations into their native languages.
Discount for Translators
We offer a nice discount for translators. If you'd like to get a discount on Starfish Reviews in exchange for translating it into your native language, please contact me for details.
. . .
Are you stoked about this release? Let us know in the comments or by leaving us a review on WordPress.org.