Should you buy Google reviews?
In short, no, it's not a good idea to buy Google reviews or collect fake reviews of any kind.
In this post, we're going to examine paid Google reviews, specifically why businesses use them and what happens when you use them.
We'll also discuss what you should do instead of buying Google reviews.
Let's get into it.
Should You Buy Google Reviews?
Again, the short answer is no, you should not buy Google reviews as a way to increase your overall review rating on Google or increase the number of reviews you receive.
It goes against Google's review policy and has the potential to tarnish your reputation with customers if they find out.
It's also a bad practice to get into as there are much more legitimate ways of acquiring more reviews for your business.
Paid Reviews vs Fake Reviews
Let's take a moment to define what "buying Google reviews" means.
While many paid Google reviews are indeed fake, buying Google reviews doesn't necessarily mean they have to be fake.
Many businesses pay real customers to leave reviews. These types of reviews are much harder to detect as fake since each one is created by a different Google account, which is linked to a different device and IP address.
Plus, they're written by real people, making it much easier for them to be seen as real reviews.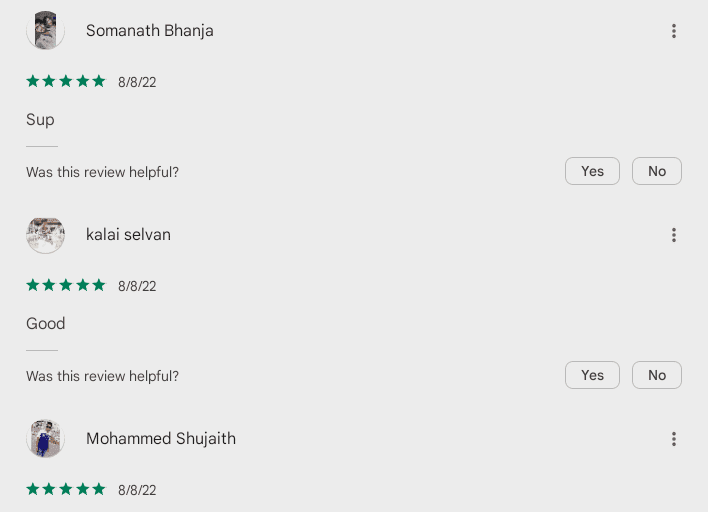 As for the other half of paid Google reviews? Those are certainly fake.
These types of reviews are generated by a service specialized in acquiring more reviews for customers.
This is why when you pay for online reputation management services, you need to make sure you do your research and choose a company that does not use illegitimate ways of acquiring reviews.
But why is buying Google reviews such a problem? Well, your business' reputation is one reason.
87% of consumers read online reviews for local businesses in 2020 alone. Plus, 94% of consumers report being influenced by online reviews.
This means customers pay close attention to the individual reviews you receive, not just your overall rating.
If they suspect some of your reviews are fake, they won't trust you.
Even worse, if word got out, you could wind up dealing with a lot of bad press that may follow your business around for years.
Besides that, paid reviews go against Google's official review policy.
Google's Policy for Buying Google Reviews
Google has guidelines for content that appears on Google Maps. These guidelines apply to Reviews, Photos and Videos.
There's a subheading on the guidelines page called "Fake Engagement" under the "Deceptive Content" section.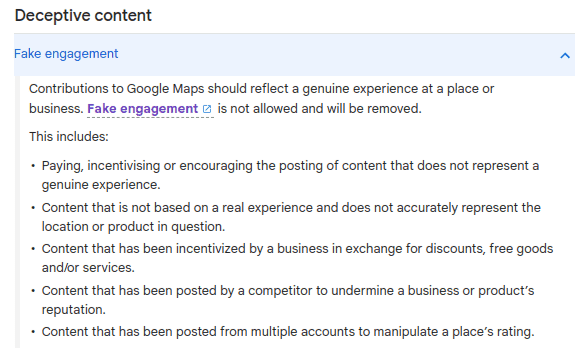 The section under this subheading describes prohibited content as it pertains to fake and paid reviews.
According to Google, prohibited content includes:
"Paying, incentivising or encouraging the posting of content that does not represent a genuine experience."
Also:
"Content that is not based on a real experience and does not accurately represent the location or product in question."
As well as:
"Content that has been posted from multiple accounts to manipulate a place's rating."
This means posting fake reviews or paying for fake reviews goes against Google's review policies.
As for incentivizing "real" reviews from actual customers, Google has restrictions for this as well:
"Content that has been incentivized by a business in exchange for discounts, free goods and/or services."
So, what happens when you're caught? Well, Google states it will remove content, including reviews, that distort the truth.
Its bots detect fake reviews automatically and flag them for removal.
And while Google's policy for removing reviews doesn't mention paid reviews, they do state that they will "take down reviews that are flagged in order to comply with Google policies or legal obligations."
Speaking of legal obligations…
Is it Illegal to Buy Google Reviews?
Google's "legal obligations" are imposed by the Federal Trade Commission (FTC).
This means if you decide to buy Google reviews, not only will you have Google to worry about, you'll also be in danger of facing lawsuits from the FTC.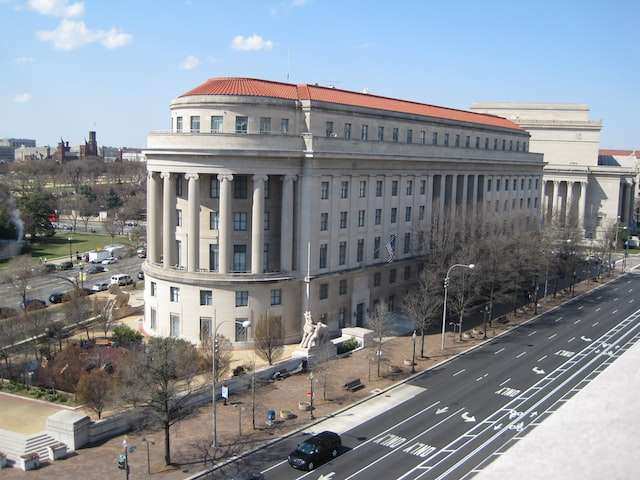 Here's a snippet of the FTC's stance on fake reviews and everything related to them:
"Unfair methods of competition in or affecting commerce, and unfair or deceptive acts or practices in or affecting commerce, are hereby declared unlawful."
This is from Title 15 of the United States Code. It states that each violation, meaning each fake or paid review, comes with a $10,000 penalty.
The most notable FTC lawsuit related to online reviews was enforced on Fashion Nova. The online fashion retailer was found blocking negative reviews from appearing on their website.
Fashion Nova was ultimately forced to pay a $4.2 million settlement for the violation.
The FTC also sent notices to 10 review management services for violating the FTC Act by offering to suppress negative reviews for clients.
Why Do Companies Buy Google Reviews?
So, if Google flags and removes reviews it suspects are fake and the FTC penalizes businesses who use them, why do companies buy Google reviews?
It has to do with that stat we referenced earlier, the 94% of consumers who report being influenced by online reviews.
Consumers look for a few things when they browse your reviews:
The number of reviews you have.
Your overall review rating.
How often you receive reviews.
Whether or not you respond to reviews, especially negative reviews.
Detailed reviews that aren't a single sentence or short phrase.
Buying reviews helps businesses receive more positive reviews on a regular basis.
It also tips the scale, resulting in a higher overall rating.
All of these factors matter to Google as much as they do customers.
They're called "local SEO ranking factors." They affect your rankings in local search, specifically how likely you are to appear in one of the top three spots for local search terms related to your industry.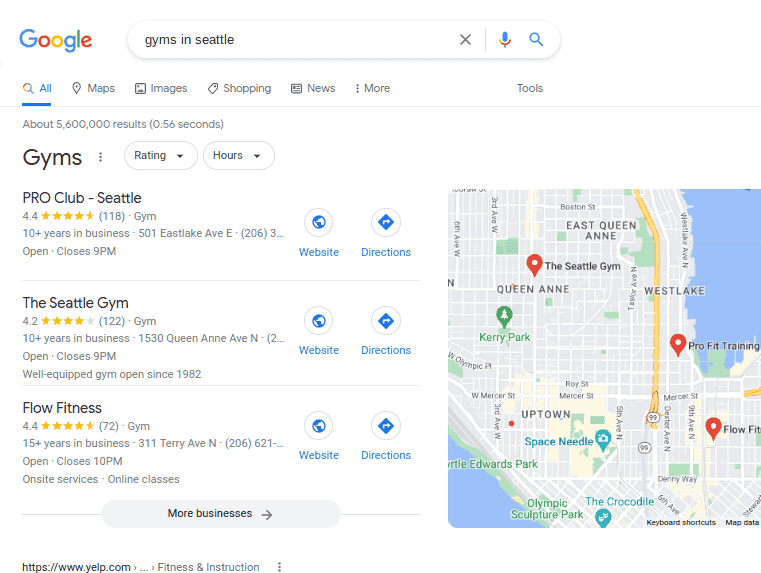 But why Google of all platforms?
Google Reviews is the most popular review platform on the web, so businesses get more bang for their buck when they engage in this practice.
How to Buy Google Reviews
Just to be clear, we don't recommend you engage in this practice to improve your business' review score on Google.
We especially want to discourage offering it as part of your agency's online reputation management service.
Even so, we want to briefly discuss how businesses buy Google reviews and how some businesses wind up buying fake reviews unknowingly so you can avoid doing so yourself.
For starters, there are entire blackhat services out there whose entire business model revolves around getting more reviews for their clients.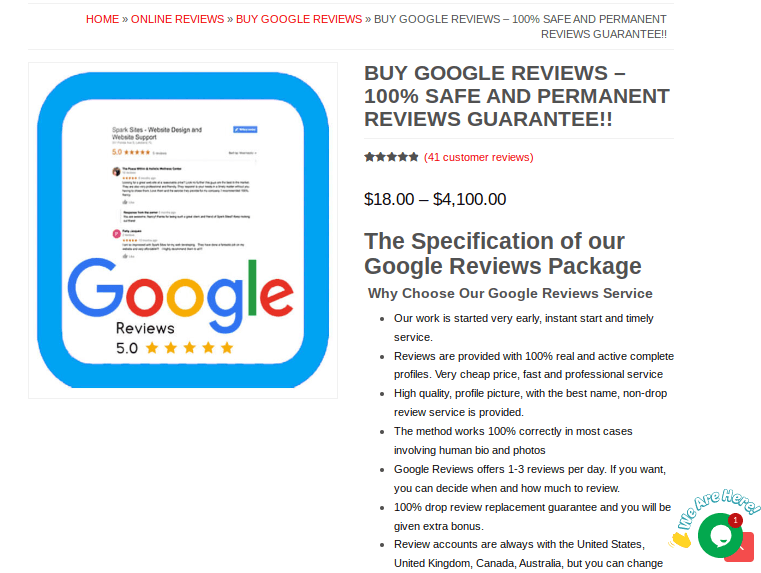 These companies often advertise "100% genuine reviews" even though the reviews they produce are not from customers who have actually visited your business or used your products.
These companies use Gmail accounts they've created, complete with profile pics and full bios, so they're really hard for Google to detect as fake.
This makes them tempting to use and hard for businesses to turn down, especially if Google doesn't suspect the reviews are fake.
Here are a few prices I found online for buying Google reviews:
$14.50 for 2 Google Reviews
$30 for 5 reviews
$75 for 10 reviews
$978 for 250 reviews
$4,100 for 1,000 reviews
Most services promise a turnaround time of 1-2 days, which can be quite suspicious if you suddenly have 1,000 new 5-star reviews after struggling to receive them.
Other companies that offer Google reviews for sale are reputation management companies.
To be clear, reputation management is a legitimate service. However, like we said, blackhat reputation management services sometimes use illegitimate ways to obtain more reviews for clients.
The best way to ensure you avoid these types of services is by researching the ones you're interested in to see what past clients have said about them or if any negative press comes up when you search for them.
Does Buying Google Reviews Harm Your Business?
I've technically already covered this, so the short answer is yes, buying Google reviews can harm your business, but let's elaborate.
Like I said before, there are two entities you have to worry about when it comes to buying Google reviews and using fake reviews.
They are Google and the FTC.
Per Google's guidelines, you are not to use fake reviews or obtain reviews by incentivizing customers. If Google suspects a review is fake, they'll flag it for removal.
If enough positive reviews are removed from your profile, your overall rating will drop as will your rankings in local search.
You'll appear less often for local search terms customers may use to find businesses like yours.
And even if customers do come across your profile, they'll likely be turned off by the lack of positive reviews.
Paid Reviews, Fake Reviews and the FTC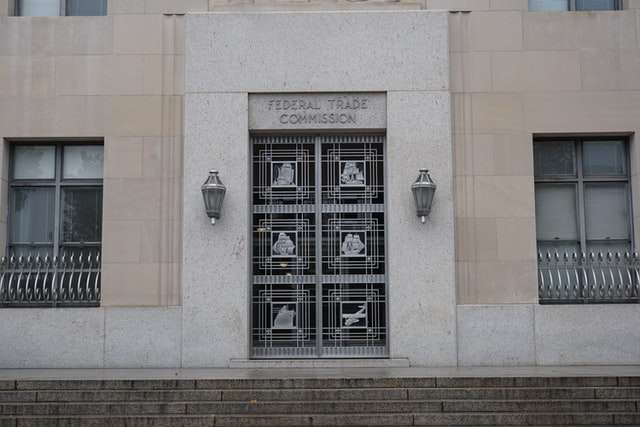 The FTC is the main threat you have to worry about when it comes to using paid or fake reviews.
In October of 2021, the FTC sent a "Notice of Penalty Offenses" to more than 700 companies.
The FTC warned these companies they would face penalties of up to $43,792 per offense if they do not adhere to the FTC's laws in regards to reviews.
The companies the notice was sent to were not being accused of using fake reviews.
However, now that they know which practices the FTC deems unlawful, they're much less likely to receive leniency or additional warnings if they're investigated by the agency in the future.
Here's a list of the specific unlawful practices the FTC warned these to stop engaging in (if they happened to be):
Falsely claiming an endorsement by a third party.
Misrepresenting whether an endorser is an actual, current or recent user.
Using an endorsement to make deceptive performance claims.
Failing to disclose an unexpected material connection with an endorser.
Misrepresenting that the experience of endorsers represents consumers' typical or ordinary experience.
Again, you may face a penalty of up to $43,792 per offense if you're suspected of doing anything on this list.
That'll do much more harm to your business than a few negative reviews will.
Furthermore, in May of 2022, the FTC proposed strengthening its advertising guidelines against fake and manipulated reviews.
The FTC brought its first case against a company using fake paid reviews in 2019.
That company was Cure Encapsulations, Inc., a retailer of pharmaceutical weight-loss products who admitted to buying positive Amazon.com reviews.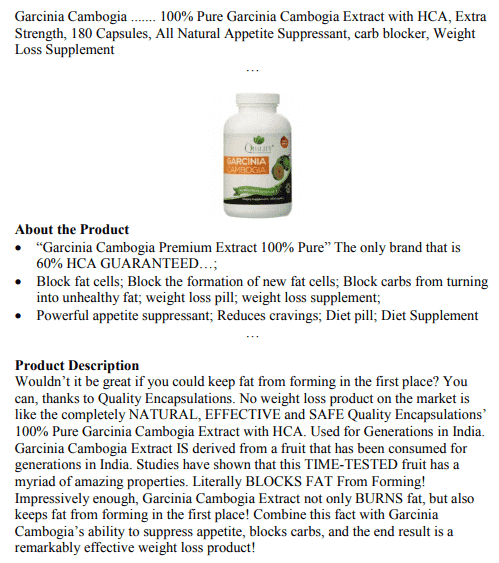 Source: TechCrunch (from FTC exhibit)
A judge ordered the company to pay $12.8 million but would accept $50,000 plus unpaid tax obligations due to the company's financial situation.
However, the FTC's press release states that "if the defendants are later found to have misrepresented their financial condition to the FTC, the full amount of the judgment will immediately become due."
So, what's our final verdict: should you buy Google reviews?
Not unless you want to face a lawsuit your business will likely never financially recover from and earn a tarnished reputation.
Thinking About Buying Google Reviews? Do This Instead
Alright, so you shouldn't buy Google reviews or use fake reviews of any kind. That much we know.
But what about all of the other stuff you still need? The positive reviews? The reviews you need to receive on a regular basis?
These are still important, but you don't need to buy Google reviews to achieve them.
What you need is a review management strategy.
You can set this up yourself or enlist the help of an online reputation management agency.
Here are the steps you'll need to take:
Claim your business listings on Google.
Flag spam and reviews you feel are fake.
Respond to positive reviews.
Respond to negative reviews.
Ask customers to leave reviews on Google.
For more help managing reviews on your own, check out our guide on mastering online reviews.
Step 1: Claim Your Business Listings On Google
It's possible for your business to appear on Google even if you haven't created a Business Profile account, yet.
This is because bots from Google and other entities find information about your business online and submit it to various directories.
For this reason, it's important that you seize ownership over unclaimed business listings as soon as possible.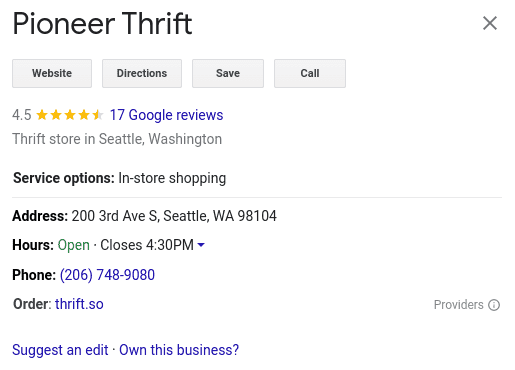 This way, you can keep your business details up to date on Google and prevent illegitimate third parties from claiming your listings.
Each location should have a different listing. Delete duplicate listings, or ask Google to merge them if you want to save any reviews you've collected from one.
Claiming a listing is easy. All you need to do is find your business on Google, click the "Claim this business" or "Own this business?" link associated with it and follow the on-screen instructions.
Step 2: Purge Reviews
Unfortunately, many small businesses receive bogus negative reviews.
Reviews like these are often left by trolls and common spammers. Other times, competitors leave fake negative reviews as a way to undermine your authority in local search.
If you suspect a review is fake, click the little three-dot button assigned to it, and report it.
There's no guarantee Google will be on your side, but it's worth a try.
Steps 3-4: Respond to Reviews
Did you know that 53% of consumers expect you to respond to online reviews?
It's good to respond to all types of reviews, but focus on negative ones and detailed positive reviews if you don't have time to respond to every review you receive.
Here are a few general guidelines to follow when responding to reviews:
Greet the author of the review by name.
Thank them for doing business with you and for taking the time to leave a review.
Take ownership over any mistakes your business made.
Explain how you plan on improving your products and services to ensure the mistake never happens again.
Apologize. If the mistake was grand, offer to make things right.
Invite your customer to give you a second chance.
Step 5: Get More Google Reviews
Finally, get more Google reviews by asking for them on a regular basis.
You can hand out flyers to customers or ask them in person.
You can also ask via email after they've received your product or service.
Starfish Reviews is great for this step.
It enables you to set up a "review funnel" and insert it anywhere on your site.

This funnel collects feedback from customers and enables you to ask them to leave you a review on Google.
It even includes a button that'll take them directly to your Google profile.
You can also use the plugin to monitor Google reviews and showcase reviews on your site.
What About Online Reputation Management Companies?
Again, you should not offer to create fake reviews for clients of your online reputation management agency.
Use the methods outlined above instead by performing each step for your client or working with their marketing and support team members to get them done.
Remember, any lawsuit your clients face from the FTC have a high likelihood of affecting your business as well.
Plus, if your clients' reviews keep getting removed by Google, you'll face their wrath as they leave negative reviews for you across all review platforms, share their negative experiences with your agency on social media, or even report you to the Better Business Bureau (BBB) and FTC themselves.
All in all, no one should buy Google reviews.
Maintaining your online reputation is hard work, but it's entirely possible to accomplish without cheating the system.