Local keyword research can seem overwhelming as it's an extra SEO task you'll need to add to your routine. Plus, it means you'll have an entirely separate list of keywords to rank for.
However, it's actually a much more straightforward process than you'd think.
In this post, we cover what local keyword research is and how to perform it. We also touch base on how to use local keywords.
Let's get started.
What is Local Keyword Research?
Local keyword research is the act of finding relevant keywords to rank for in local search.
As you know, Google's search engine is broken up into multiple facets. This includes a local facet called the Local Map Pack that only features location-based search results.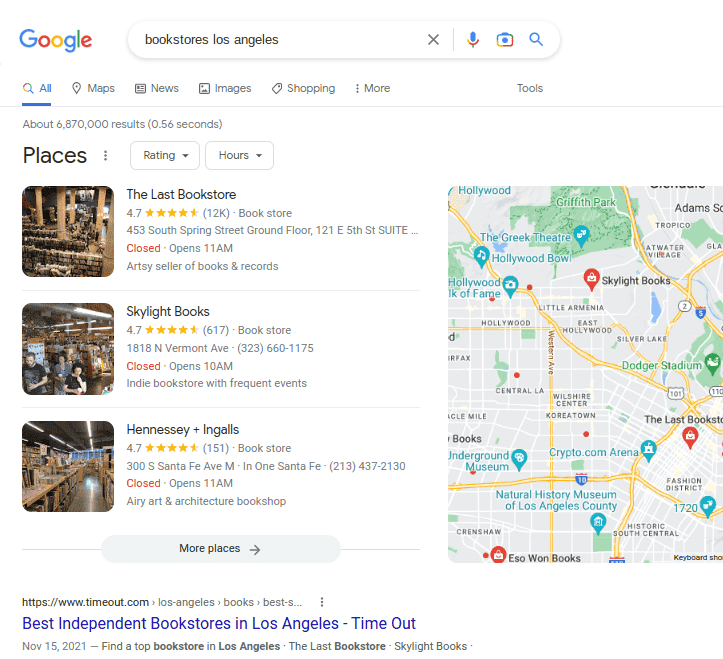 For example, when you enter "italian food" into Google's search engine, you'll see a lot of results for nearby Italian restaurants alongside regular results like recipe posts.
Therefore, we can safely call "italian food" a local keyword.
You can optimize your website for local keywords just as you would optimize it for regular keywords.
You can even create dedicated pages that target local keywords.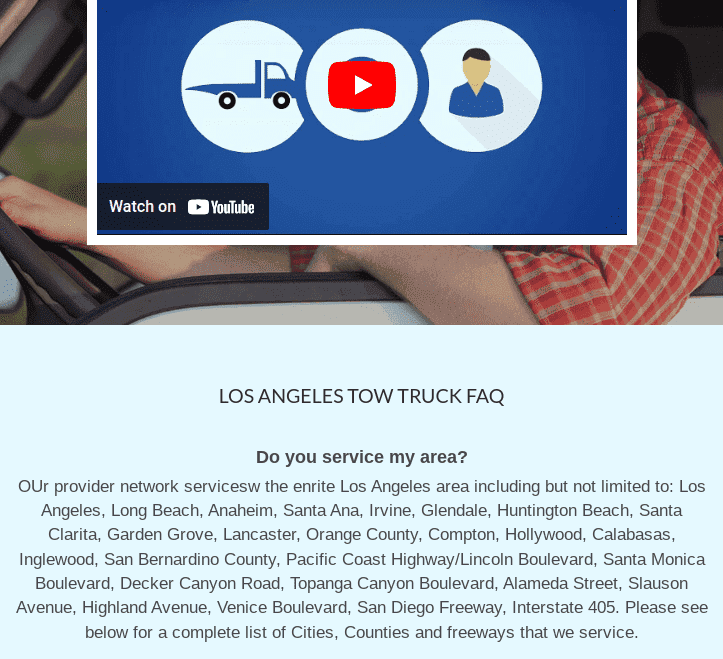 Customers use specific search terms to find businesses like yours on Google. When you conduct local keyword research, you can pinpoint those search terms to ensure you're optimizing your website for the best possible variations.
Plus, local keywords are far less competitive than regular ones, so they're easier to rank for.
12 Best Free & Premium Local Keyword Research Tools
Here are a few tools you can use to conduct local keyword research: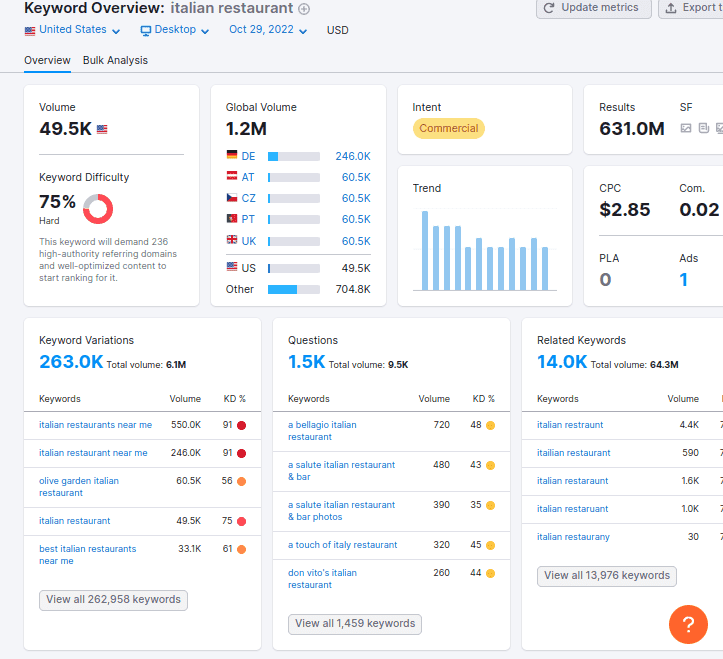 Source: Semrush
How to Do Local Keyword Research
You can do local keyword research effectively in a few simple steps:
Build a list of core search terms.
Add keyword modifiers to your core terms.
Add location-based modifiers to your search terms.
Build a list of local keywords to target.
Use keyword data to weed out certain keywords.
Enter each local keyword into Google.
Make note of any questions in the "People Also Ask" section.
Make note of keywords that generate ads.
Let's go through each step one by one.
Build a List of Core Search Terms
Open a spreadsheet application, and name the first sheet "Core Search Terms". Don't worry about naming columns, yet. This sheet is only meant to be a short list.
Create a simple list of your business' main products and services. Think of them in terms of how customers would enter them into Google.
Referring to our Italian restaurant example again, we could list the following core search terms:
restaurant
food
drinks
dine in
carryout
delivery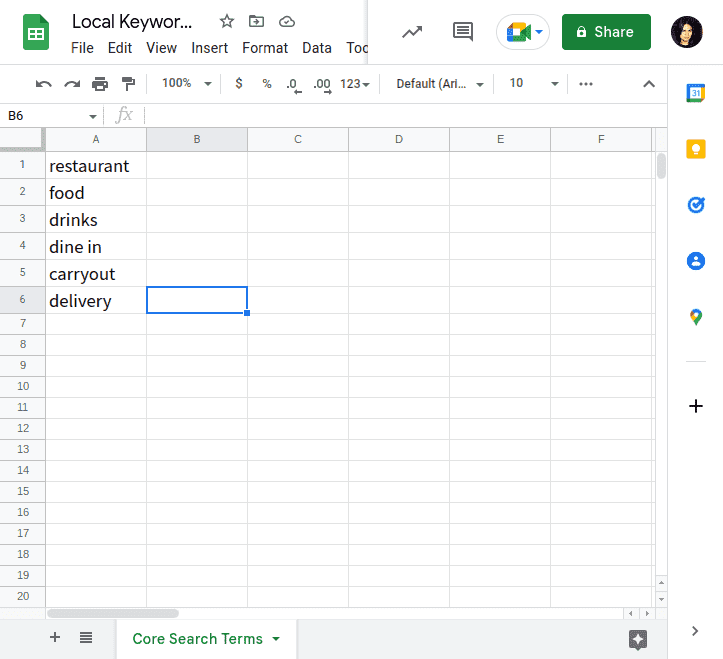 As you can see, we're omitting specific terms like "Italian" and "near me" during this step.
Think of your business' core products and services, and list them in your spreadsheet.
Add Keyword Modifiers to Your Search Terms
Add a new sheet to your spreadsheet, and name it "Seed Keywords". You're going to fill this sheet with search terms customers may use to find your business online.
These will act as seed keywords for any keyword research tools you use.
Here are a few we can use for an Italian restaurant:
italian restaurant
italian food
italian food menu
spaghetti
pizza
pasta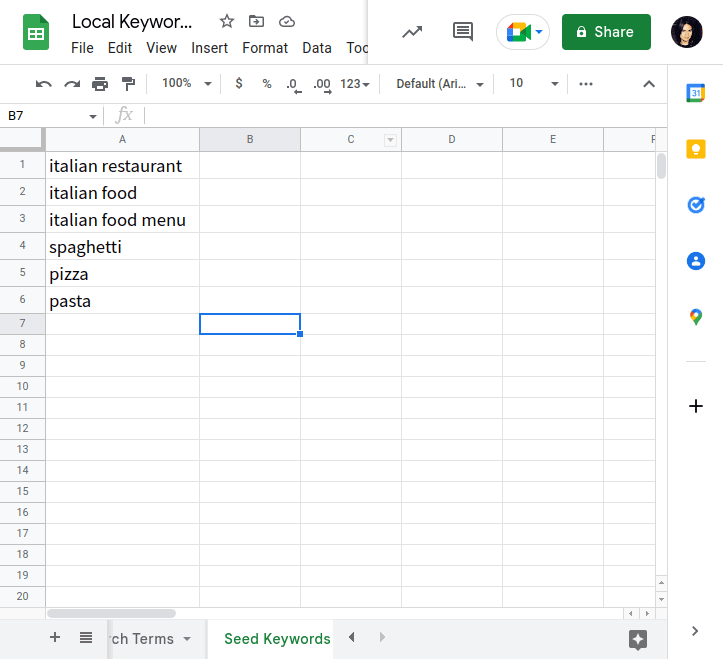 Add modifiers to your core search terms, and add them to your Seed Keywords list.
List specific products and services as well, even if they don't include your core keywords. Examples from my list include "spaghetti," "pizza" and "pasta."
Add Location-Based Modifiers to Your Search Terms
Use the same Seed Keywords sheet for this step.
All you need to do is add location-based modifiers to each of your keywords, such as "near me".
Here are our examples:
italian restaurant near me
italian restaurant new york city
italian restaurant nyc
italian restaurant brooklyn
italian restaurant delivery
italian restaurant carryout
italian restaurant dine in
italian food near me
italian food new york city
italian food nyc
italian food brooklyn
spaghetti near me
spaghetti new york city
spaghetti nyc
spaghetti brooklyn
pizza near me
pizza new york city
pizza nyc
pizza brooklyn
pasta near me
pasta new york city
pasta nyc
pasta brooklyn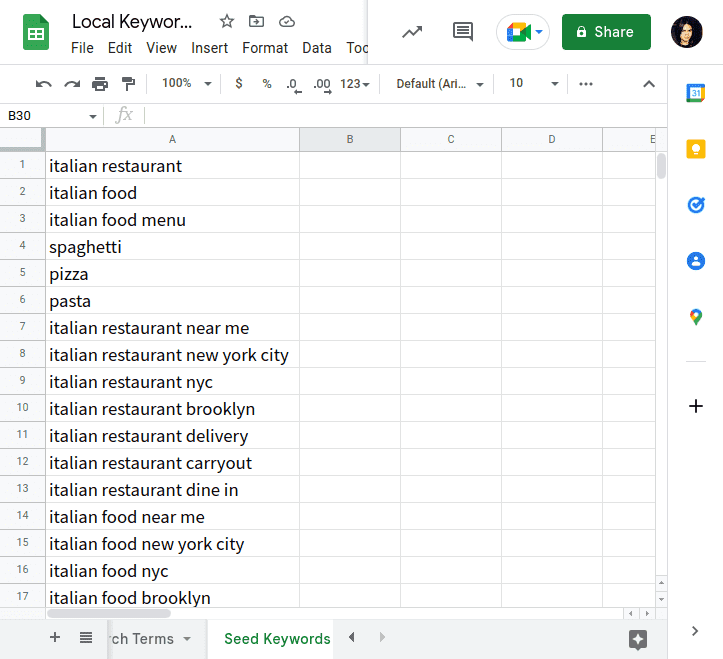 Do the same with some of your seed keywords, and be sure to add to your county, city and district as well.
Refer to your analytics tool
Your analytics tool should have quite a few keywords you can list here as well. It'll tell you which keywords bring the most amount of traffic to your website.
Because you're a local business, you should find quite a few local keywords here.
Build a List of Local Keywords to Target
You should have a decent list of seed keywords to work with by now. We're going to input them as seed keywords into a keyword research tool.
This will allow you to build a data-driven list of local keywords to target.
I'm using KWFinder in the screenshots below, but Semrush, Ahrefs, SpyFu and Ubersuggest all have similar features.
I'm going to start by importing my seed keywords into the tool. KWFinder lets you do this by importing a CSV file (for more than 25 seed keywords) or adding a maximum number of 25 seed keywords at a time to a textbox.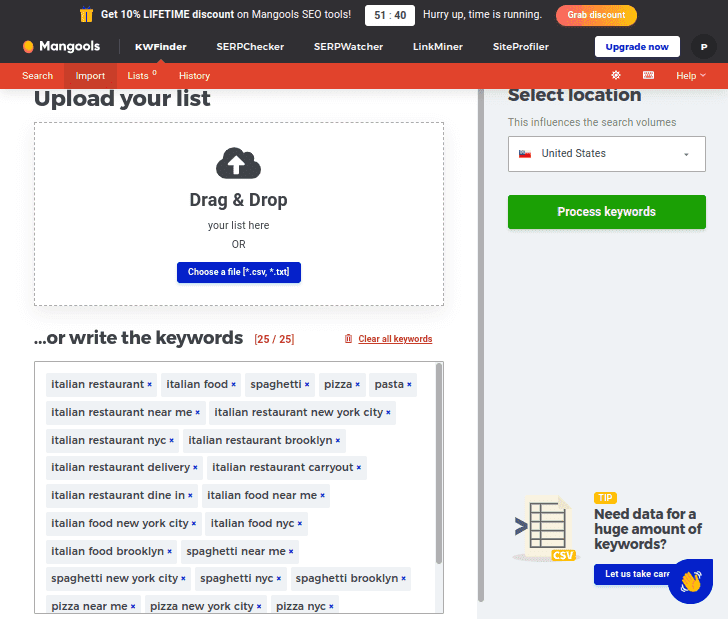 Doing this uncovers keyword data for each seed keyword. However, what we're really worried about right now is building that final list of keywords to target.
So, for now, after you import your list of seed keywords, hit the Select All option in your keyword research tool, and add them all to a keyword list within the tool.
Name it "Local Keywords" or something similar.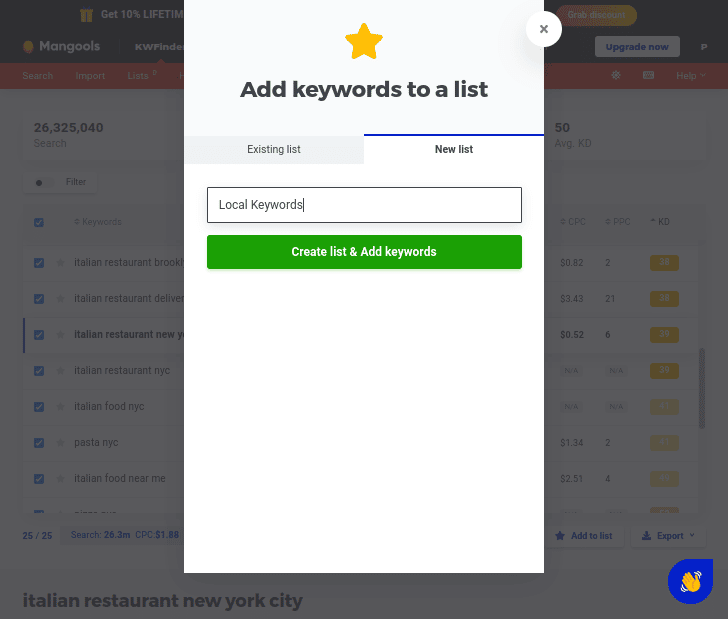 You can click on each individual keyword on this list to generate more keyword suggestions. Look for more local keywords among these suggestions, and add them to the list as well.
KWFinder, Semrush, Ahrefs, SpyFu and Ubersuggest all allow you to do this.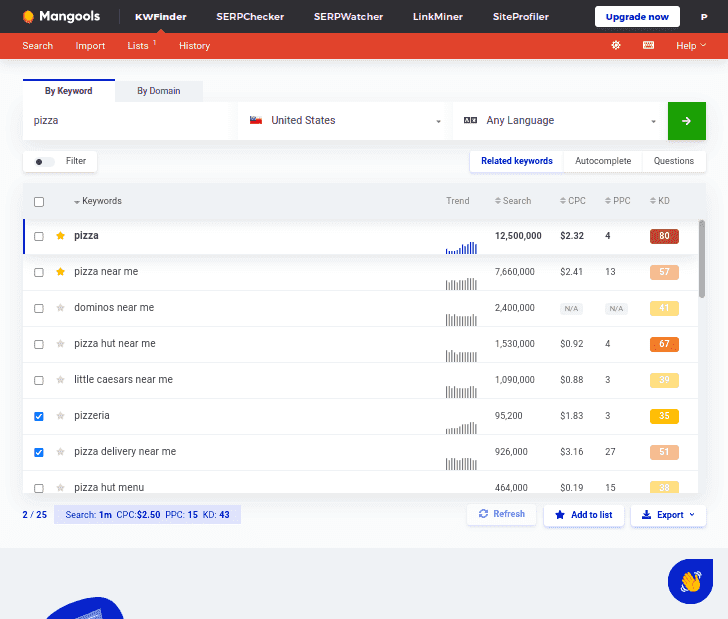 Use Keyword Data to Weed Out Certain Keywords
You should now have a few dozen keywords to work with. Let's learn how to read the data associated with them in case this is your first time doing keyword research.
Here are a few metrics you might see in the tool you're using:
Searches/Volume – The number of times a keyword is searched for every month in Google. The higher the number, the more popular a keyword is.
Keyword/SEO Difficulty – How hard it would be to rank for a keyword. The lower the number, the better.
CPC – This stands for cost per click. It represents how much advertisers are paying per ad click on average when they pay for ad campaigns through Google Ads. This is another great indicator of how competitive a keyword is. The lower the number, the less competitive it is.
As a local business, you don't have a choice in some of the keywords your business needs to target.
For example, it doesn't make much sense for an Italian restaurant not to target the keyword "italian restaurants near me" no matter how competitive it is.
However, you can use the data points listed above to weed out a few keywords.
Check out our example list in KWFinder, specifically these keywords:
| | | | |
| --- | --- | --- | --- |
| Keyword | Searches | KD | CPC |
| pizza | 12,500,000 | 80 | $2.32 |
| pizza near me | 7,660,000 | 57 | $2.41 |
| pizza delivery near me | 926,000 | 51 | $3.16 |
| pizza places near me | 667,000 | 44 | $2.62 |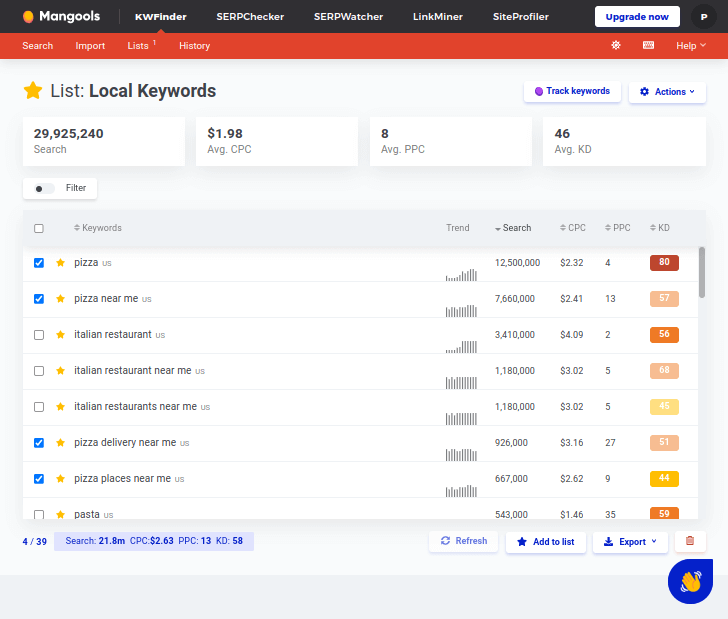 We can see that although the keyword "pizza" is very popular, it's really competitive.
So, although "pizza" is a highly relevant keyword for an Italian restaurant to target, we can safely remove it from our list and focus on more relevant and less competitive keywords instead.
We'll keep "pizza delivery near me" since it's pretty popular and not overly competitive, but let's talk about the last two keywords on this list, "pizza near me" and "pizza places near me."
They're very similar, so we should choose only one to target.
We'll go with "pizza near me" since it's far more popular and not too competitive.
We can still target "pizza places near me" as a keyword synonym for "pizza near me," but "pizza near me" should be the priority.
Go through your own keyword list, and remove competitive keywords (if they're not as relevant as other keywords) and unnecessary duplicates.
Enter Each Local Keyword into Google
If you're unsure of whether or not a keyword is a local keyword or not, enter it into Google to see if it returns any local listings.
For example, while spaghetti is a popular dish offered by Italian restaurants, entering the keyword "spaghetti" into Google only returns recipe posts.
So, we can safely remove this term from our local keyword list.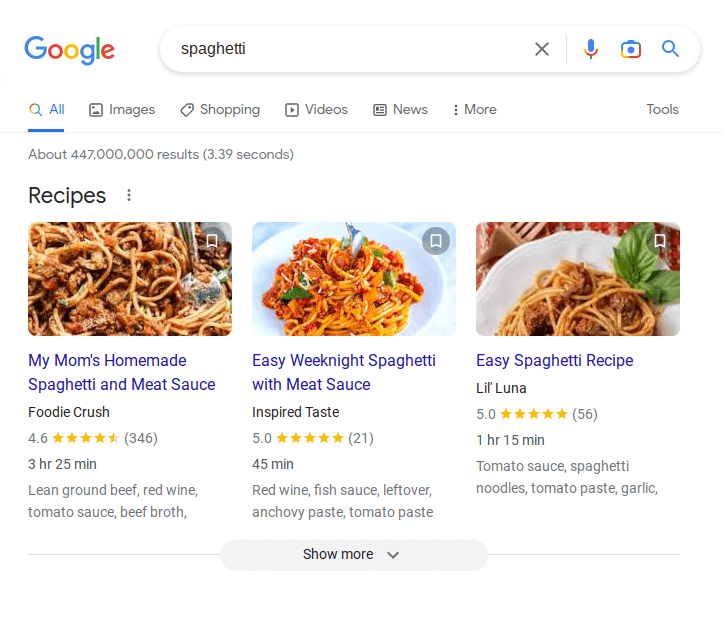 Go through your keyword list, and remove keywords that do not return local results.
Once your list is finalized, you can expand this local keyword research project even further by taking a closer look at each keyword.
Start with a simple search on Google.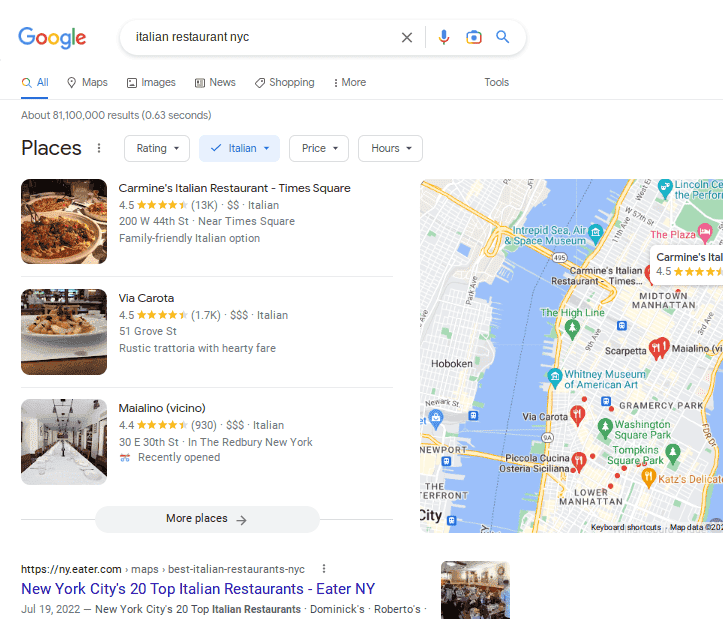 The majority of clicks go to the top three businesses that appear in the Local Map Pack when you enter local keywords into Google.
As such, researching these businesses and how they use local keywords are important parts of local keyword research.
Observe each business' Google listing as well as their website.
For Google listings, pay attention the following:
How each business uses the keyword. Do they place it in their business name? The short blurb that appears in the listing preview?
Each business' average star rating.
Which words appear in bold in the featured reviews that appear in each business' review summary. These are keywords Google feels are highly relevant to your original search term.
The service options each business lists.
If you're a restaurant, see if each business offers a menu in their Google listing, and see what's on it.
The areas each business serves.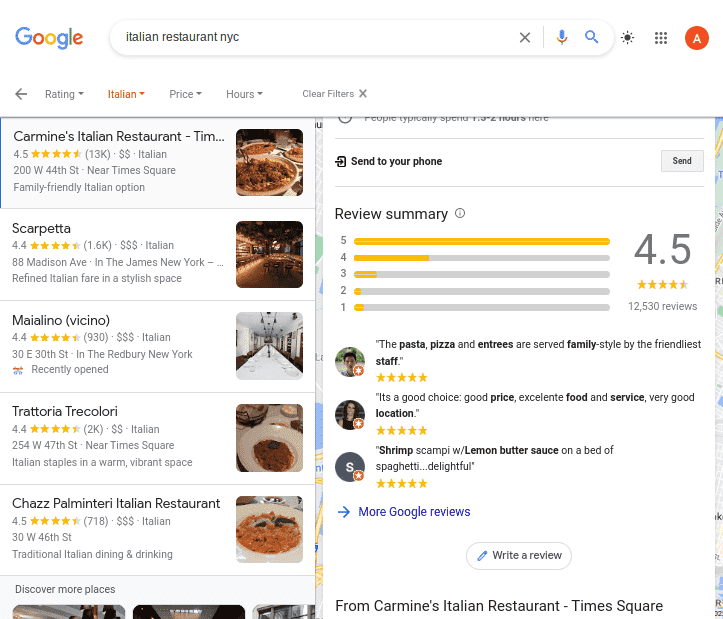 For websites, pay attention to:
How the business uses the keyword on their top pages. Does it appear in the website's tagline? How often do they use it on their homepage?
The website's speed. Run the website's homepage through tools like Pingdom or GTmetrix to test their performance.
Ranking keywords and backlinks. Run each business' website through tools like Semrush or Ahrefs to see which keywords they rank for as well as how many backlinks they have. These should become goals of yours.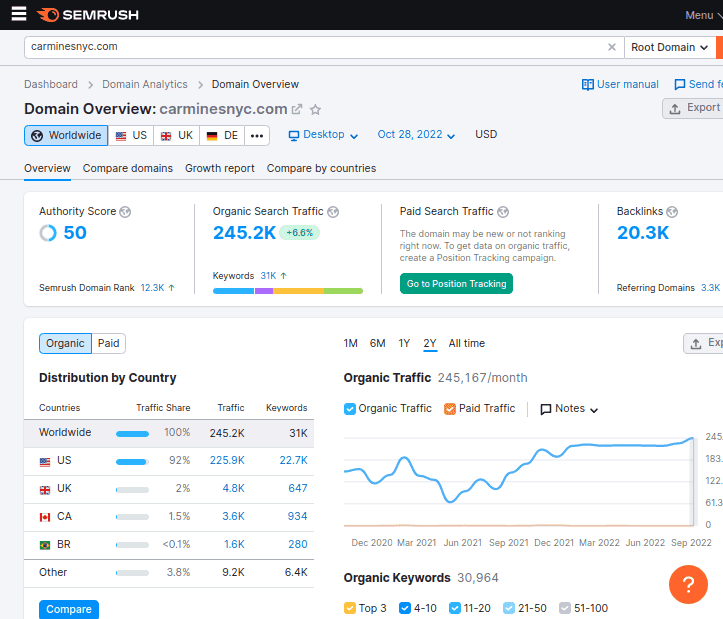 Pay Attention to the "People Also Ask" Section
When you search for keywords with Google, make note of the questions that appear in the "People Also Ask" section.
This section appears on every Google search. It helps the user answer questions they may have in regards to their original search term, all without leaving Google.
Answers are generated from excerpts on web pages that rank for the keyword you're searching for.
As a business trying to rank for these keywords, these are questions your content should answer somewhere on your website as well as your Google listing, if relevant.
The first question that appears for the keyword "italian restaurant nyc" is "What is considered the best Italian restaurant in NYC?"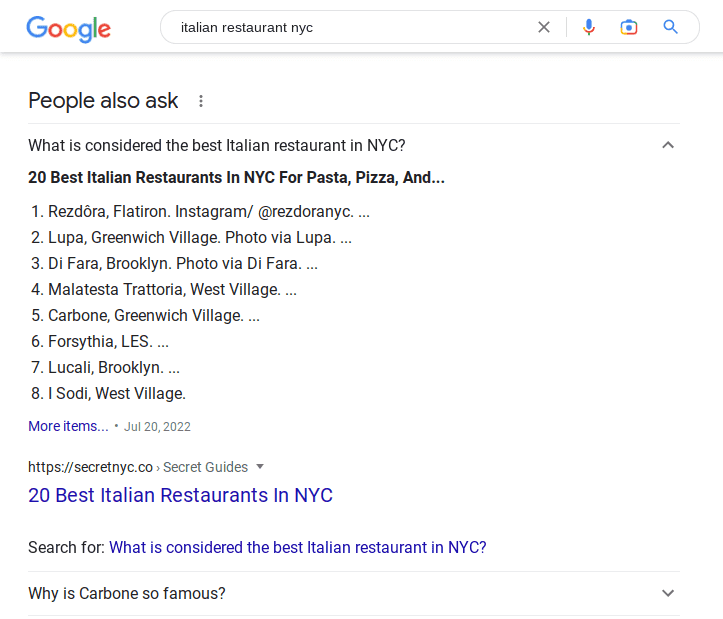 An Italian restaurant can target this keyword in a few different ways:
Using the phrase "the best Italian restaurant" in their Google listing and website.
Creating a blog post that lists the top Italian restaurants in New York City. This option would require them to list their competitors, though, which has its advantages and disadvantages.
Asking to appear on the web page that's already ranking for the keyword. If it's a list, see if the author will add you to it. You may need to incentivize by inviting them in for a free meal or offering them a group discount.
For the keyword "Does New York have good Italian food?," you could write a blog post about the Italian community in NYC as well as common dishes you can find among all Italian restaurants in the area. Include popular dishes you serve as well.
Make Note of Keywords That Generate Ads
Turn off your adblocker when you search for local keywords. You'll sometimes see ads at the top of the search page or at the top of the Maps page.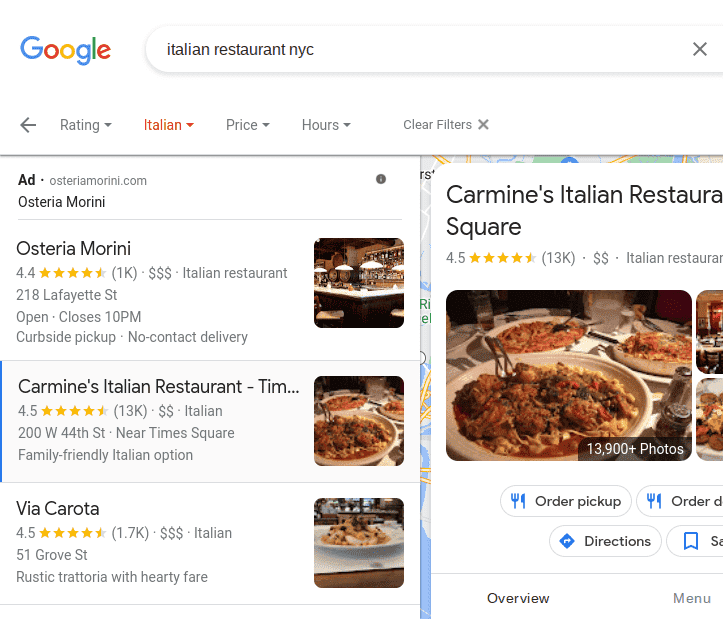 Ads are given priority over organic results, so making note of keywords that generate them gives you an idea of which keywords you'll always have competition for no matter how high you rank organically.
These are keywords you may need to bid for yourself at some point in order to stay relevant and beat the competition.
How to Use Local Keywords
The research you do on how your competitors use local keywords should give you a good idea on how to use them yourself.
Prioritize Google Business Profile first, and then your website.
Add a relevant local keyword to your business name, if possible.
For example, instead of simply naming their listing "Carmine's," the business named it "Carmine's Italian Restaurant."
Use local keywords in your business' bio.
Also, make sure you ask customers to leave reviews on a regular basis. A WordPress review plugin like Starfish Reviews can help you with this.
When you reply to reviews, try to include relevant keywords. If a customer compliments your pizza, throw in a "be sure to try our famous baked cannelloni next time" in your reply.
You should also fill out your profile as much as possible, especially the Service Options section as it includes numerous local keywords.
Use local keywords throughout your website as well, especially your homepage.
If you offer multiple locations or serve multiple areas, create a separate page for each location or area and name each page after its associated location/area served.
You can also create dedicated pages for each major product or service you offer, especially if they're local keywords.
Tracking Local Keyword Rankings
Unfortunately, when you monitor rankings with typical SEO tools, you won't get a clear picture of how well your business ranks in local search, meaning the Local Map Pack.
Keyword tracking for most SEO tools means tracking keyword rankings in regular search.
You need to use a local SEO tool instead. Here are a few options that track local keyword rankings:
Good luck!